Oak Ridge Associated Universities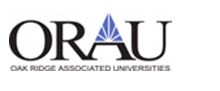 Oak Ridge Associated Universities (ORAU) was founded shortly after World War II to support the research mission of Oak Ridge National Laboratory. It is a consortium of 98 Ph.D.-granting sponsoring institutions and 18 affiliate members. Florida State University has been a sponsoring member of ORAU since 1951. Kirby W. Kemper is FSU's Member Councilor for ORAU.
ORAU's headquarters is in Oak Ridge, Tennessee but has branch units in Arvada, CO, Belcamp, MD, Cincinnati, OH, Sacramento, CA, Stafford, VA and Washington, DC. ORAU is a not for profit 501©3 corporation which manages a broad portfolio of education, peer review, national security, emergency preparedness, environmental assessment and worker/public health programs. In addition, ORAU manages ORISE, Oak Ridge Institute for Science and Education, for the U.S. Department of Energy.
ORAU affords a variety of research, training, internship and educational opportunities for Florida State University undergraduate students, graduate students, recent graduates, postdoctoral fellows and faculty. In FY 2010, ORAU supported more than 5,000 students, recent graduates, postdoctoral fellows and faculty in these programs.
An on-line catalog is available to search for the above opportunities by field of interest, types of programs, when appointments start and whether U.S. citizenship is required. The venues encompass a broad range of Federal agencies including Commerce, Defense, Energy (including the National Lab system), CDC, EPA, FBI, FDA, NASA, Nuclear Regulatory Commission and USDA.
ORAU membership also affords Florida State University faculty and students access to a range of partnership programs:
ORAU Events Sponsorship Program
ORAU Travel Grant Program
ORAU/ORNL High Performance Computing Grant Program
Powe Junior Faculty Awards
Lindau Meeting of Nobel Laureates and Students