FSU's electronic protocol management system for IRB review ("RAMP IRB") allows the OHSP to provide the FSU leadership and the human research community with meaningful and key metrics to help establish internal goals, benchmarks and expectations for human research regulatory review productivity and turnaround. To date, FSU IRB review turnaround times are consistently lower than established FSU performance goals as well as those reported by peer institutions.
Select metrics are depicted below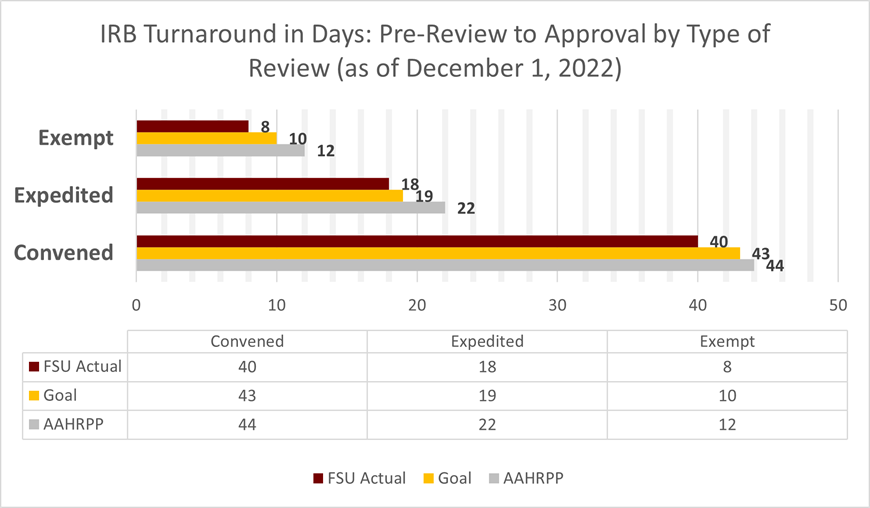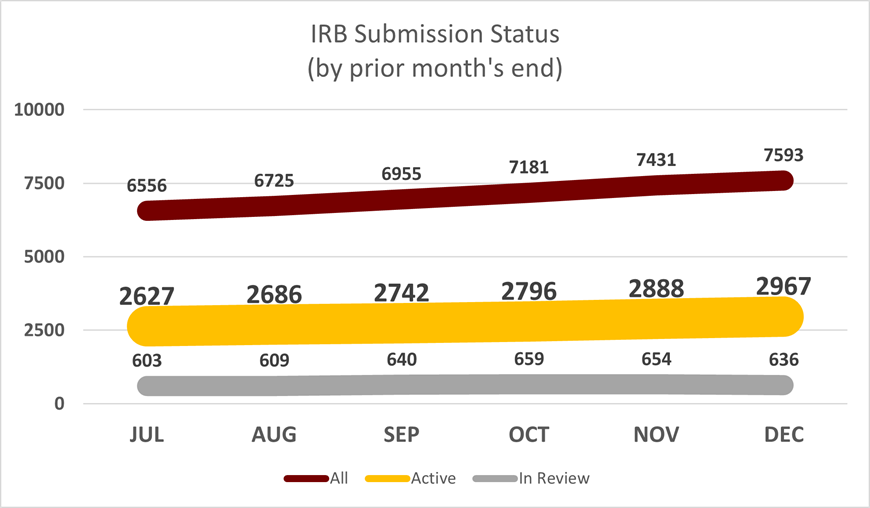 Notes:
(1) IRB Review Turn-around Times include metrics for 3 categories of review pathways: exempt, expedited and convened IRB review, for FSU human research studies that have ever been approved or cleared as of the end of the prior month for the months depicted. Counts by month are depicted to illustrate turn-around trends. The garnet bar captures actual FSU IRB turn-around in calendar days. The gold bar represents the FSU goal while the grey bar (AAHRPP*) refers to the median turn-around reported among accredited academic institutions/IRBs across the U.S. (*Association for the Accreditation of Human Research Protection Programs (2022).
(2) IRB Submission Status is reported for all studies that have ever been logged into the IRB electronic protocol management system. Counts by month are depicted to illustrate volume trends. "ALL" (garnet) submissions account for any submission (e.g., new or transferred studies, modifications, continuations) ever entered into the IRB system (since July 2019). "Active" submission volume (gold) accounts for currently IRB-approved or cleared studies. "In Review" submission volume (grey) accounts for studies currently in a queue awaiting disposition (e.g., pre-submission by PIs, faculty advisor review or Pre-Review by OHSP); approximately 2/3s of these are in pre-submission (i.e., not yet been submitted by PIs for regulatory review).
Review turnaround for any study begins when a submission is submitted by a PI, and ends when a final regulatory determination is rendered. The review process includes, for example, all of the following:
Verification of personnel training (CITI Human Subjects and/or Good Clinical Practice training) and conflicts of interest (via CAMS)
Faculty advisor review and approval (for student-led activities and research)
Pre-review and clarification requests (and review of PI response) by OHSP to ensure a submission is IRB review ready
Regulatory review and clarification requests (and review of PI response) by the IRB, an IRB member and/or OHSP staff
Ancillary (non-OHSP or IRB, e.g., other FSU offices or external partners or sponsors) reviews
PI response to required revisions (as applicable), resubmission and review by the IRB and/or OHSP team
Finalization of IRB-approved study materials
Drafting, processing and issuance of final regulatory determination letter