Collaborative Collision: Health 2021
Celebrating Five Years of Collaboration at Florida State
BY: Mike Mitchell | PUBLISHED:  
As I clicked "end meeting for all" to close the final day of Collaborative Collision: Health 2021, my mind  flashed back to a moment in April 2016— standing outside the Alumni Center, enjoying a plate of the obligatory networking event hors d'oeuvres as we took down the posters from Collaborative Collision: Health— when a professor stopped on his way to the parking lot and said "Phenomenal event, I really hope you all do it again!"
Five years later I'm proud to say that we did do it again, another 14 times in fact! Since 2016 the Office of Research Development has hosted Collaborative Collisions on topics covering all kinds of societal problems including Environment, Defense, Underserved Populations, Big Data, Children and Families, and Anti-Racism, Equity, and Inclusion. We brought together more than 1000 total participants at those events and featured 774 presentations by researchers at FSU. In 2018 we added the Collaborative Collision Seed Fund, which has since awarded over $500,000 to more than 30 new research teams.
Our most recent event was both a celebration of the program, and also a recognition that the work of providing complex solutions to complex problems is never truly done— I doubt any of us would argue that the world of Health research is dramatically different than it was in 2016. Collaborative Collision: Health 2021 recognized this by holding a multi-day event featuring researchers working on Physical, Social, and Mental and Emotional health topics. We also specifically encouraged collaborations between topic areas, in addition to within them.
My favorite part of the event was welcoming back two distinguished FSU Alumni to give the opening remarks on our Physical and Social health focus days. Dr. Tara Schwetz (B.S. '05) and Dr. Bill Riley (M.S. '81 and Ph.D '84) both hold leadership positions with the National Institutes of Health and discussed opportunities for collaborative and interdisciplinary research at NIH.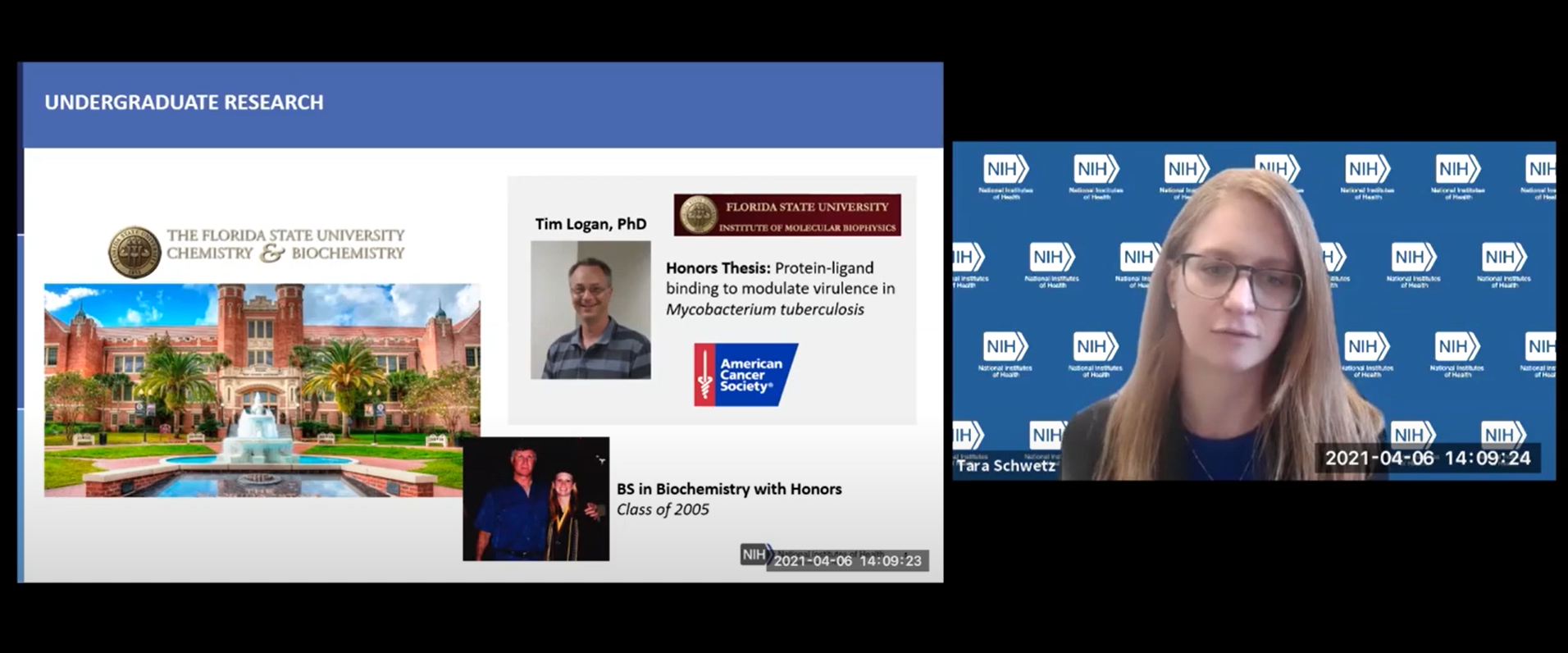 Dr. Tara Schwetz discusses NIH collaborative initiatives at Collaborative Collision: Physical Health
Dr. Schwetz, Associate Deputy Director of NIH, gave us a presentation on NIH's approach to promoting collaboration and innovation across disciplines. Dr. Schwetz highlighted several fascinating NIH programs including:
Sound Health, an initiative focused on better understanding music-based health interventions in an innovative partnership with the National Endowment for the Arts, the Kennedy Center, and the National Symphony Orchestra
HEAL (Helping End Long-term Addiction), focused on preventing and treating opioid misuse, and exploring better ways to help patients with pain management.
Rapid Acceleration of Diagnostics (RADx) Initiative, a program with over $1 billion in funding for the development and enhancement of COVID-19 testing.
Dr. Schwetz also talked to us about the five most important lessons she's learned through interdisciplinary activities, especially focusing on the value of including a diverse group of partners from the very beginning of a project. A recording of Dr. Schwetz full presentation is available on the Collaborative Collision: Physical Health webpage.
I'd also like to offer a huge congratulations to Dr. Schwetz, who left NIH shortly after Collaborative Collision: Health 2021 to join the White House Office of Science and Technology Policy as Assistant Director of Biomedical Science Initiatives! It's incredibly exciting to have a Nole in the White House at any level, but especially one helping to lead America's science and innovation enterprise.
Collaborative Collision: Social Health also featured a distinguished FSU Alumnus, Dr. Bill Riley, Associate Director for Behavioral and Social Sciences Research, and Director of the Office of Behavioral and Social Sciences Research (OBSSR). FSU can proudly claim two connections to OBSSR between Dr. Riley and Dr. Norman Anderson, the founding Director of OBSSR and current Assistant Vice President for Research at FSU.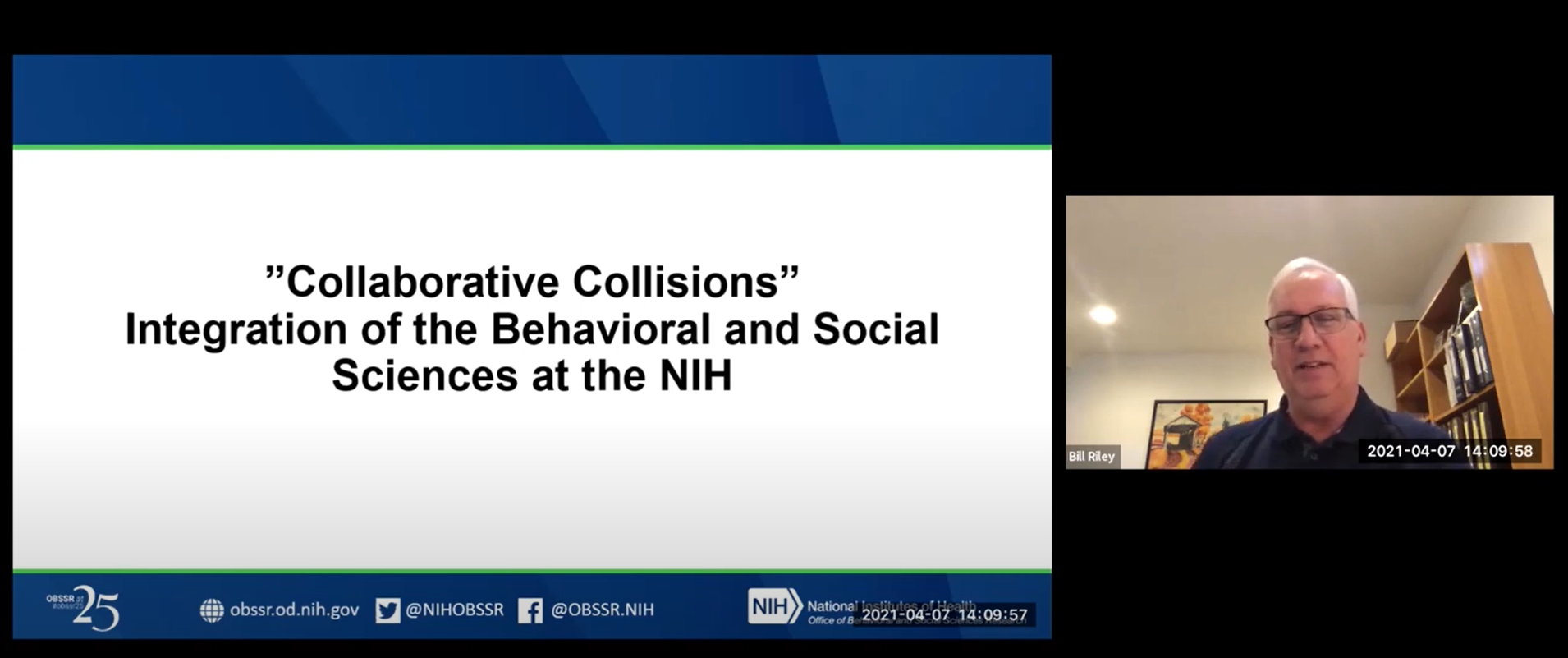 Dr. Bill Riley presents on opportunities to work with NIH's Office of Behavioral and Social Sciences Research at Collaborative Collision: Social Health
Dr. Riley also highlighted several areas of potential interest to FSU researchers, in particular the COVID-19 Survey Item Repository, an online database of hundreds of data collection instruments developed over the past year to assess the behavioral and social aspects of the pandemic. Similarly, he shared details of OBSSR's COVID-19 Vaccination Communication strategy, as well as an exciting opportunity to study Firearm Violence Prevention as a public health issue, the first time in decades that the federal government has been allowed to do so. Dr. Riley's presentation is likewise available in full on the Collaborative Collision: Social Health webpage.
Do you have an idea for a Collaborative Collision?
We're looking for topics that meet one or more of the below criteria:
Are there researchers at FSU working on the topic, but they don't necessarily know each other?
Would our understanding of the topic be advanced by interdisciplinary collaboration?
Is the topic a significant societal problem that can be addressed by interdisciplinary research? Are there numerous external funding opportunities related to the topic?
Has the topic been featured in a Collaborative Collision within the last three years?
As we look to the sixth year of Collaborative Collision this fall, I'm particularly excited to announce some big changes to the format! Based on our experiences over the last five years, ORD is refreshing the Collaborative Collision program and moving beyond simply building connections. This new version, which I've taken to calling Collaborative Collision 2.0, will feature two new, additional events designed to help guide teams through the development process: Collaborative Incubator and Collaborative Accelerator. Details of these programs are being finalized and will be announced this Fall.
Contact: Mike Mitchell | Strategic Initiatives Manager
Mike Mitchell has organized Collaborative Collision since 2017, and led its growth into a program highlighted as a significant contributor to achieving the goals of FSU's Strategic Plan. As ORD's Strategic Initiatives Manager, Mike specializes in leading programs that leverage the research strengths of a top-20 public university to promote societal impact. His focus areas include building new interdisciplinary teams, identifying opportunities for strategic growth, and connecting researchers and resources to advance creativity and innovation.