What is Artistic Research?
---
Upcoming Arts Webinars
Florida Division of Arts and Culture's Grant Programs Webinar
Tues., July 19, 2pm-3pm
The Florida Division of Arts and Culture's grant programs support the state's cultural organizations and individual artists.  The grants fund disciplines including music, dance, theatre, creative writing, literature, architecture, painting, sculpture, folk arts, photography, crafts, media arts, visual arts, and programs of museums.  Division staff will provide an overview of grant programs and the application process.
---
What Is Artistic Research?
A Cross-section of FSU Researchers in the Arts
BY: Mahnoor Khan| PUBLISHED: June 22, 2022 
One weekend, my friend and I went for a short walk at Cascades Park. Unexpectedly, our walk became a two-hour detour as we stayed to watch Invisible History: Middle Florida's Hidden Roots, a documentary by noteworthy filmmaker-in-residence at FSU's College of Motion Picture Arts, Valerie Scoon. The 2021 Suncoast Regional Emmy Award-winning documentary centered on the history of slave plantations in Leon County and Middle Florida.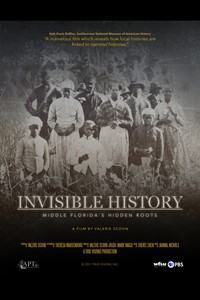 Invisible History: Middle Florida's Hidden Roots
Through quickly transitioning flashes of newspaper headlines and dated flyers, Scoon spoke life to history, and she did it justice through her form of artistic research: filmmaking. But what is artistic research, exactly?
Research in the arts serves as a dynamic, multidimensional creative landscape for exploration, artistic expression, and innovation. For Scoon, artistic research meant the hours she spent tracing back history, scouring through old archives, and discovering forgotten photos. For other artists at FSU, such as Keith Roberson, it could mean using innovative A.I. and VR technology to express artistic scenes in a digital space.
"I create art which explores technologies, like virtual art and artificial intelligence, and demonstrate their potential as artistic mediums and for new kinds of expression," says Roberson. His art installations have travelled the world, gracing venues in Korea, the Bahamas and Jamaica. His latest pieces showcase A.I. generated compositions through animated TikTok reels of everything from surreal dream recreations to trippy art and retro cats.
BFA Director and Professor of Art Carrie Ann Baade creates art that is neither virtual nor digital. It is solid, visceral, and welcomes the viewer to participate in history, to learn from it a way of moving forward. Baade uses egg tempura and oil paint to reincorporate a woman's voice into historical Northern Renaissance artworks.
If you ask Baade to define her research, she would call it creative activity.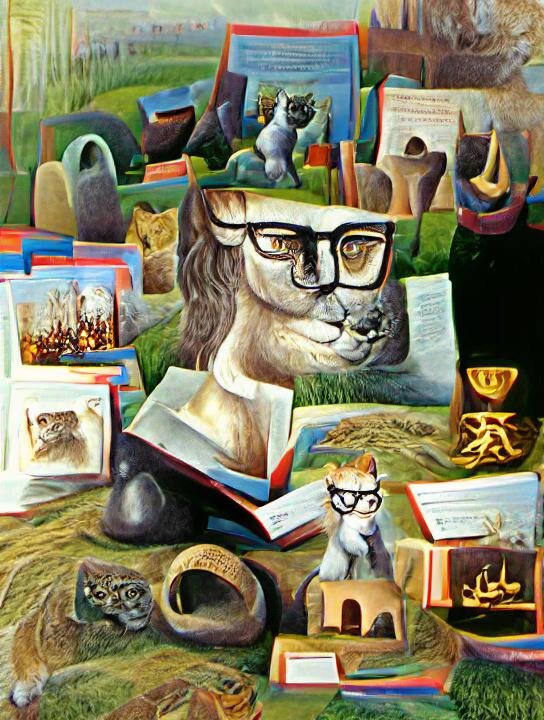 "KeefyKat" by Keith Roberson
"Creative activity is measured by advancement of this knowledge, which can come through publishing or exhibiting. Some artists do research, yet we are expected to generate creative activity with scholarly engagement and professional development."
Baade creates composition pieces that have their own "meta-narrative" of a real world distorted through the "unraveling and reweaving" of archetypal iconography. "Each of my paintings is composed from roughly cut snippets of pictorial fragments in the form of a prototype collage with the cut edges essential to the composition," says Baade. "They are there to crudely point to my original act of violence with the scissors in my hand before the act of loving care with the brush."
Arts scholars may face challenges while researching. School of Dance Associate Professor Gwen Welliver says "It takes a long time to research, develop, and present a new choreographic work – anywhere from 1-3 years." Welliver spent years studying human movement and communication through performance, dance, and opera.
"I think many people don't understand the staggering cost of bringing together performers, technicians, musicians, and support staff, and to rent the space and equipment required for all stages of research leading up to and including a production," says Welliver. "There are large operational costs to the work I do, and it is constantly challenging to meet these costs."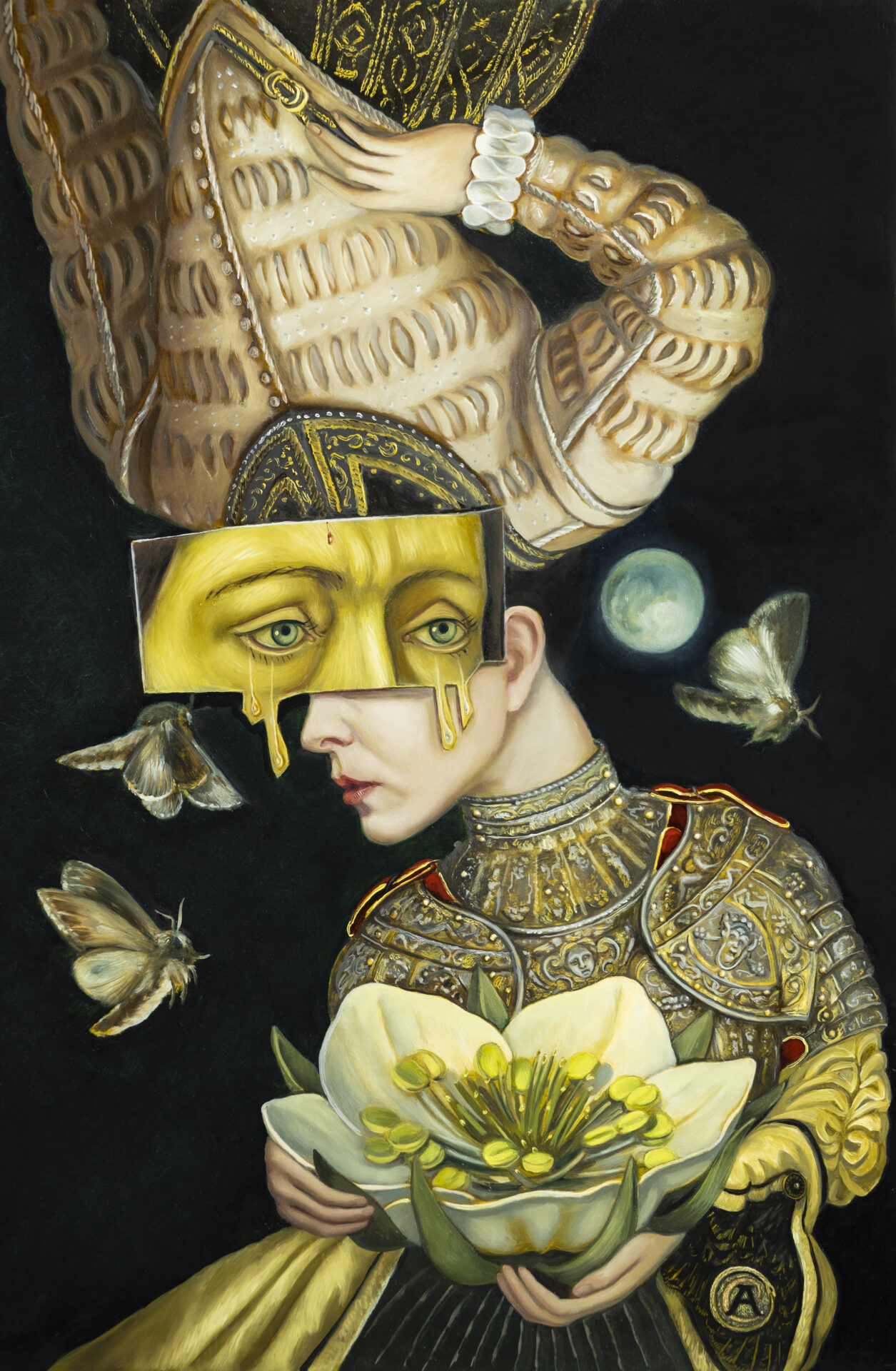 "Priestess of Moths" by Carrie Ann Baade
This is where funding comes in.
Funding in arts research means funding places like the Maggie Allesee National Center for Choreography (MANCC). As FSU's dance residency center, MANCC hosts nationally renowned dance artists for a period of creative process, giving way for choreographic research to flourish.
Explaining what research looks like at MANCC, Research Associate Scott Lindenberg says, "For some artists, the process of engaging in a choreographic process itself is research. For others, it may look like something more recognizable to a humanities scholar, such as reviewing a series of documents, books, films, etc."
Applying for and finding funding can be challenging, especially for artists at differing stages within their careers. For help in finding and securing funding, arts researchers can see Carolyn Bradley, Research Development Coordinator at FSU's Office of Research Development (ORD), who collaborates with researchers in the arts to facilitate grants activity.
To Bradley, "exalting the human imagination" is what makes arts research so amazing.
"While so much of the human experience remains inaccessible by the limits of our understanding," she says, "arts ... commitment to 'trying' to understand helps renew our appreciation for the beauty and worthiness of our time here."
Another funding opportunity for arts scholars is a seed fund through ORD's Council on Research and Creativity (CRC).
CRC Program Manager Grace Adkison rejoices at arts researchers embracing the spotlight. "Opportunities for bringing this research to the forefront used to be quite limited, but with an increased interest in solving problems utilizing interdisciplinary approaches, many throughout the arts and humanities disciplines are getting involved by contributing their knowledge and skills to the conversation. One of the ways that this is happening on campus is through the Collaborative Collision program."
At its heart, Collaborative Collision is about the formation of long-lasting collaborative relationships in research. FSU researchers and members of the community join interdisciplinary teams "to provide complex solutions to complex problems" in the accelerated semester-long program.
Keith Roberson dedicated his artistic expertise and skills to help his Collaborative Collision team create DeepCare, which aims to use A.I. to explore ways to improve quality of life for the elderly at risk for dementia.
DeepCare Collaborative Collision Team Video
"I love the diverse range of opportunities for collaboration at FSU," says Roberson. "My own learning about the subjects of my collaborations keeps me motivated." DeepCare won $50,000 in funding during Accelerator, the finale of the Spring 2022 Collaborative Collision: Community+. 
Without adequate funding, artist researchers like Scoon, Roberson, Baade and Welliver would not be able to do their creative work.
"FSU are my Medici's," Baade declares. "The support I have received through our R1 Institution has permitted me to create artwork that would not otherwise be possible."
Through Collaborative Collision, the CRC, and personal support from our Arts and Humanities Coordinator, Bradley, ORD is here to help FSU's artistic researchers paint a clearer picture of their specific research development needs. We may not be able to help you auction off a painting for millions of dollars, neither can we promise to fill every row of a concert hall, but we are dedicated to being a helping hand to guide you through your individual research process.
Mahnoor Khan | Office Assistant | Office of Research Development
A senior Biological Sciences major at FSU, Khan is passionate about connecting faculty and members of the community on collaborative research projects. She works with the Collaborative Collision team to create large events and research videos. Khan also helps with ORD's "Journeys in Research" Podcast.