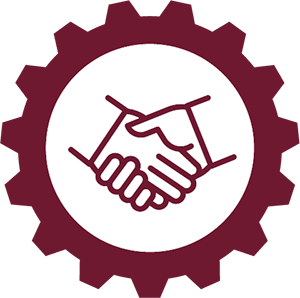 ---
Unconquered in the face of adversity and traumatic events.
Resilience is about being able to respond to and recover from challenging conditions, experiences, or events. In order to thrive, people, communities, organizations, systems, and universities must have an ability to rise when knocked down, to remain unconquered in the face of adversity and traumatic events. Florida State University has an established culture of Resilience, and this concept is central to the research of our faculty, taught to and embraced by students in their studies, lived by our alumni in their careers and lives, and practiced within our sports teams, arts and culture, and community work.
Collaborative Collision: Resilience Special Guests
Dr. Richard McCullough, President of Florida State University (left) joined us to show his support for collaborative research, discuss his vision for interdisciplinarity at FSU, and share stories from his time as a researcher.
Dr. Bill Elwood (right) from the National Institutes of Health, Office of Behavioral and Social Sciences Research discussed NIH's conceptualization of resilience, gave multiple examples of resilience funding opportunities, and provided valuable insight into working with the Trans-NIH Resilience Initiative.
---
Collaborative Connector focuses on encouraging the discovery of individual researcher's skills, interests, and assets, as well as their values, expectations, and interest in collaboration. Our Resilience Connector featured presentations from 46 researchers interested in collaborating on resilience projects, including participants from STEM, Health, Social Sciences, and Humanities disciplines. Participant slides are available for download above, and their presentations can be viewed on YouTube.
---

The second stage of Collaborative Collision: Resilience is Collaborative Incubator —  a series of four guided team development sessions covering project development, collaboration planning, discovering the team's competitive advantage, and determining how to communicate to the right people, in the right way.
At the conclusion of the Collaborative Incubator each team will have a fully developed, multi-media proposal that is well positioned to both compete for our $50,000 Collaborative Accelerator prize, and/or immediately pursue external funding.