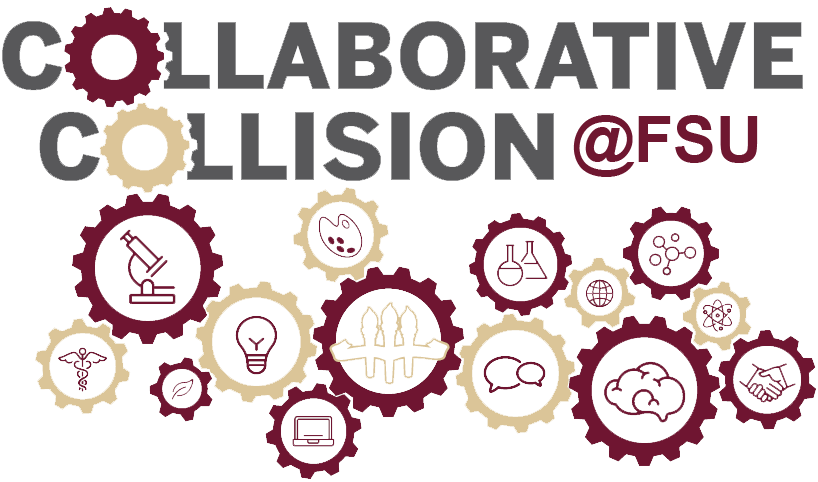 Collaborative Collision: Health 2021
April 6th, 7th, and 8th| 2pm-5pm | Zoom
In April 2016, the Office of Research Development organized the first campus-wide interdisciplinary networking program at Florida State University. Five years and 15 events later, Collaborative Collision has brought together thousands of members of the FSU research community, helped launch countless new collaborative research teams, and positioned FSU to make breakthrough discoveries and compete for external funding. Join ORD in celebrating this milestone by revisiting the first Collaborative Collision topic: Health.
Health is perhaps the best example of the kind of convergent topic, with diverse disciplinary interest, that Collaborative Collision was designed to address. Whether you are working to find better ways to prevent and treat chronic disease, exploring the causes of health disparities in different populations, analyzing massive data sets to provide healthcare policy insights, developing new technologies to improve patient outcomes, creating new works of art that challenge the way we think about mental wellness, or seeking to better understand the very building blocks of life as we know it, nearly every member of FSU's research community could plausibly be involved in a project related to health.
Collaborative Collision: Health seeks to cast the widest possible net and host the largest group of potential interdisciplinary collaborators in Florida State University's history. To maximize the potential number of participants while keeping the event manageable, Collaborative Collision: Health will take place over three separate days, each with a different focus. Physical Health (April 6th) focuses on researchers working on topics directly related to the condition of the human body, Social Health (April 7th) includes the interaction between our social systems and individual health outcomes, and Mental and Emotional Health (April 8th) explores the brain, psychological and emotional wellbeing, and individual behavior. Researchers are invited to attend all three events, and may select to present at any combination of the three.
Collaborative Collision: Health will also feature keynote presentations from FSU Alumni currently in leadership roles at the National Institutes of Health.  
Dr. Tara A. Schwetz (B.S. '05 in Biochemistry) is the Associate Deputy Director of the National Institutes of Health, within the Immediate Office of the Director (IMOD). IMOD responsibilities include central oversight on NIH activities in research funding, management, administration, and information technology, as well as coordinating trans-NIH efforts across all 27 Institutes and Centers. Prior to assuming this role, Dr. Schwetz was the Chief of the Strategic Planning and Evaluation Branch in the Office of the Director at the National Institute of Allergy and Infectious Diseases (NIAID) where she led several efforts, including conducting an evaluation of the Centers of Excellence for Influenza Research and Surveillance to facilitate evidence-based decision-making and developing the NIAID Strategic Plan for Tuberculosis Research.
Dr. William T. Riley (M.S. '81 and Ph.D '84 in Clinical Psychology) is the Associate Director for Behavioral and Social Sciences Research, and Director of the Office of Behavioral and Social Sciences Research. During his 12 years at the NIH, he also served at the National Institute of Mental Health (NIMH), the National Heart, Lung, and Blood Institute (NHLBI), and the National Cancer Institute (NCI). Dr. Riley's research interests include behavioral assessment, technology-based interventions for health risk factors, and the application of engineering and computer science methodologies to the behavioral sciences.
This will be a virtual event, hosted by the Office of Research Development via Zoom. Each presenter will be asked to complete a research profile slide describing their interest and projects in the topic area, and send to Mike Mitchell in ORD. At the event, each presenter will have three minutes to discuss their slide's content. 
Please note: Collaborative Collision: Health 2021 is no longer accepting new registrations for presentations.
Registration for attendance will remain open until Tuesday April 6th at 10am.
What is a Research Profile?
Collaborative Collision is centered on the Research Profile—short, focused presentations designed to communicate who you are as researcher, and let others know your unique skills, interests, and opportunities. Research Profiles also discuss specific ways you might help, or be helped by, a collaborator, making it easy to identify other researchers that you may be interested in working with. Research profile presentations are limited to three minutes and slides must follow the format available for download here. 
Not sure what to put in your Research Profile? Check out examples from past events here!