COVID-19 UPDATE (6/25/2020) - If you have an active or recently-awarded CRC grant that is being impacted by the coronavirus (travel, scope, participant recruitment, etc.), please navigate to the Time Extension and Budget Amendment page to request accommodations to your grant.  The CRC will not be issuing automatic extensions; time extensions must be requested through Time Extension and Budget Amendment page.  Please note that there may be delays in response times due to the increased volume of requests.
The Council on Research & Creativity is a major faculty committee appointed by the Vice President for Research.  In addition to coordinating and administering the programs outlined on this website, the CRC also advises the VP Research on matters of research policy and overhead income distribution.  The membership list, meeting dates, and detailed program information are posted in the side navigation links.  Questions about the CRC?  Contact the following for assistance:
Jeffrey James (CRC Chair) jdjames@fsu.edu
Grace C. Adkison (CRC Program Manager) gadkison@fsu.edu
---
CRC Programs Guide
Please read the Request for Proposals (RFPs) in addition to using this guide; you may be eligible for more than one program
Please note: Clicking the CRC programs shown below will direct you to that program's RFP.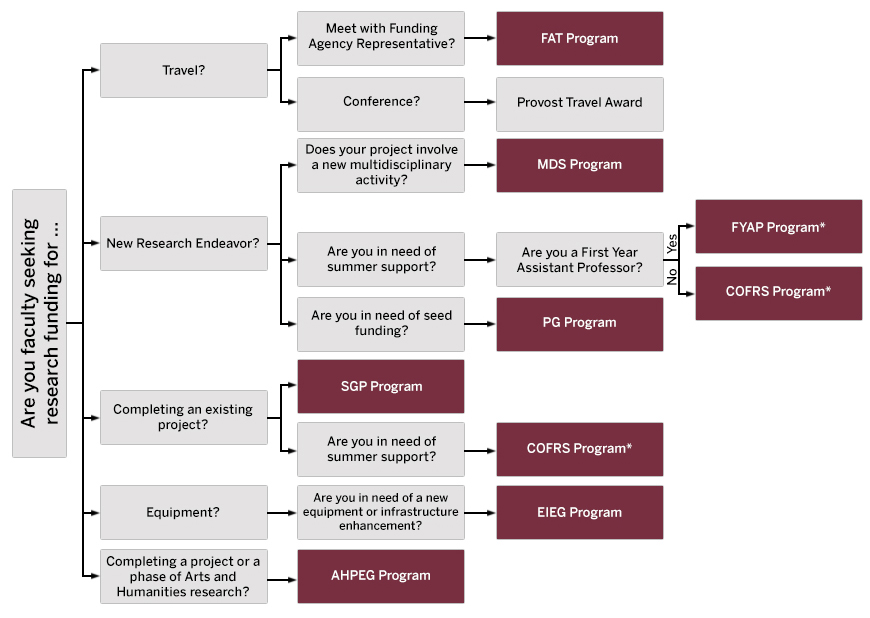 * These are the only CRC awards that can be used for salary, although they can also be used for other purposes (e.g. Materials & Supplies, Research-related Travel, etc.).  Please read the Request for Proposals for details and/or contact the CRC Program Manager for more information.
Contact Us
Grace C. Adkison
Council on Research and Creativity Program Manager 
2023 Westcott North Annex
Tallahassee, FL 32306-1330
Ph: (850) 645-5751
Fax: (850) 645-0108
gadkison@fsu.edu