2014 Writing an R01: A Hands-On, Brain-Engaged Workshop
---
Writing an R01: A Hands-On, Brain-Engaged Workshop
Workshop Overview
If you have considered applying for an R01 award through the National Institutes of Health, plan to attend this informative and engaging workshop. This will not be discipline specific, but will engage and prepare the attendee to write a clear, focused proposal.
---
Workshop Details
What: Writing an R01: A Hands-On, Brain- Engaged Workshop
When: Monday, October 6, 2014 from 3:00 to 5:00 p.m.
This workshop is being sponsored by the FSU Office of Proposal Development. For more information about other workshops being offered by the OPD, visit the OPD website.
---
About the Speaker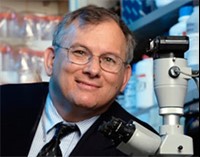 Dr. Richard Nowakowski is the Randolph L. Rill Professor and Chair of the Department of Biomedical Science at the FSU College of Medicine. He has maintained an extramurally funded laboratory for many years, working on cell proliferation in the developing and adult brain. He has served on Study Sections and Review Panels for NIH, NSF, NASA and Autism Speaks. The 3 full terms on NIH Study Sections include 2 terms as Chair. Nowakowski's research expertise includes developmental neuroscience, cell proliferation, cell cycle and neurogenesis in developing and adult brain, and the use of bromodeoxyuridine. He has >25 years of experience teaching medical students including 20 years as Director of the Medical Neuroscience Course. At RWJMS, he was also the Director of the Postdoctoral Career Development Program. In this capacity, he worked to train Postdocs for the variety of career opportunities that they have in universities, colleges and industry. He continue to work on these issues at FSU and also as a member of the Board of Directors of the National Postdoc Association.
---
About the NIH Research Project Grant Program (R01)
The Research Project Grant (R01) is the original and historically oldest grant mechanism used by NIH. The R01 provides support for health-related research and development based on the mission of the NIH. R01s can be investigator-initiated or can be in response to a program announcement or request for application. To learn more about the NIH Research Project Grant Program, otherwise known as the RO1 program, please visit the NIH site at:http://grants.nih.gov/grants/funding/r01.htm
---
Contact
Please contact Beth Hodges with any questions.