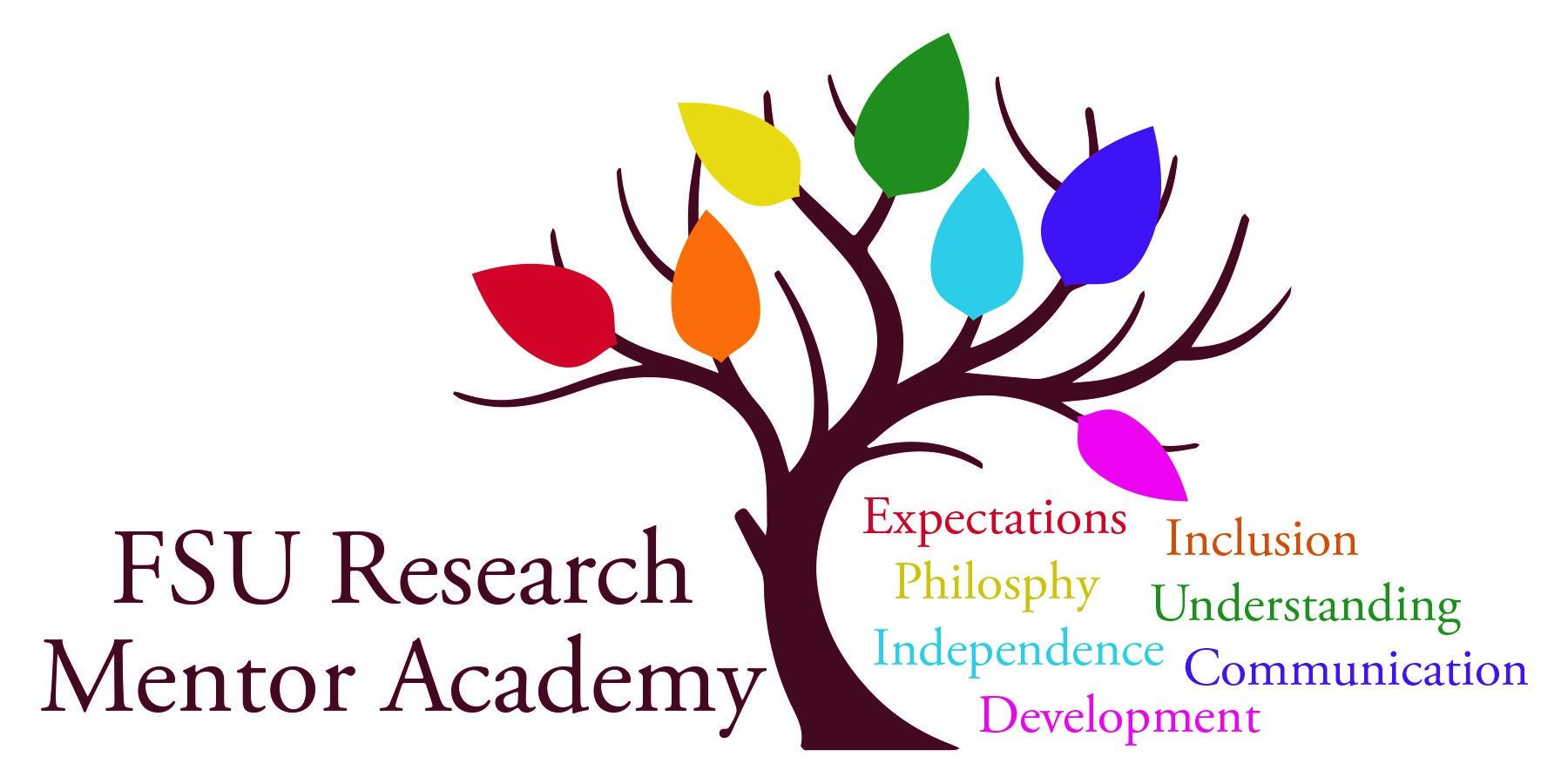 ---
"Mentorship is a professional, working alliance in which individuals work together over time to support the personal and professional growth, development, and success of the relational partners through the provision of career and psychosocial support."
-The National Academies of Sciences, Engineering, and Medicine Consensus Study Report "The Science of Effective Mentorship in STEMM"
---

What is the Research Mentor Academy?
Effective research mentoring relationships are critical to developing the next generation of researchers.  The mission of the FSU research mentor academy is to promote a culture of support for research mentoring and to provide training in optimizing mentoring relationships for mentors with their mentees at all levels of their research careers. The FSU Research Mentor Academy is conducted by the FSU Office of Research Development, lead by Dr. Rachel Goff-Albritton, Assistant Director of the Office of Research Development. 
The Research Mentor Academy is provided in collaboration with the Office of Faculty Development, co-sponsored by the FSU CTSA Program, and supported by other FSU Administrators and Faculty trained to lead and facilitate the Entering Mentoring curriculum.   
Our training is based on the research mentoring curricula, Entering Mentoring, from an evidence-based curriculum from the the Center for the Improvement of Mentored Experiences in Research (CIMER), using an interactive approach that allows participants to explore an intellectual framework for research mentoring within a community of their peers. This approach provides mentors with opportunities for reflection and a forum to solve mentoring dilemmas and share successful mentorship strategies. You can read more about the development of these training materials here.
The FSU Research Mentor Academy is structured around a series of interactive learning sessions on topics relevant to successful mentor-mentee interactions. The training covers topics related to research mentoring relationships, such as:
Aligning Expectations
Addressing Equity and Inclusion
Assessing Understanding
Fostering Independence
Maintaining Effective Communication
Promoting Professional Development
Cultivating Ethical Behaviors
Promoting Mentee Research Self-Efficacy
Enhancing Work-Life Integration
Articulating Your Mentoring Philosophy and Action Plan
FSU research mentors who attends all sessions will be listed and recognized within their cohort on this page below and will receive a certificate of completion.  Your completion of this training can be listed on your CV and, if applicable, is important to be listed on training grant applications. If you are interested in learning about mentoring best practices, then the FSU Research Mentor Academy is the place to be.
Who Should Attend?
We are currently offering this training to FSU faculty who conduct research and creative activities and who are currently active in mentoring early career researchers, including undergraduate students, graduate students, postdocs, and junior faculty.
Faculty who serve as research mentors on training grants are encouraged to attend.
---
Registration
Spring 2022 Research Mentor Academy Registration is Now Closed
Interested in attending a future session?  Click here to join our waiting list for future sessions: Waiting List
---
Details on Sessions:
Spring 2022 Sessions
When: During the Spring Semester 2022, Noon to 2pm, Four Sessions on Tuesday March 29, April 5th, 12th, and 19th  
Where: This will be a Virtual Event (Zoom links and details will be sent to registrants)
Agenda for Sessions 
Sessions
Discussion Topics
Session 1
Introduction to Research Mentor Training
Maintaining Effective Communication
Session 2 
Addressing Equity and Inclusion
Aligning Expectations
Session 3
Assessing Understanding
Fostering Independence 
Session 4
Promoting Professional Development
Articulating your Mentoring Philosophy and Action Plan
Concluding remarks
---
Research Mentor Academy Cohorts
Mentors

Department/College

Bio

 

Jeffrey Harman, Spring 2020 Cohort

 

Behavioral Sciences and Social Medicine/Medicine

Jeffrey Harman, PhD, is a Professor in the Department of Behavioral Sciences & Social Medicine (BSSM) at the FSU College of Medicine. He is a health economist who conducts research on health policy and teaches applied statistics at the College of Medicine. Dr. Harman has extensive experience with mentorship. He is currently the chair of the Mentoring Committee in BSSM, has chaired or co-chaired 16 dissertation committees, served as a member on 23 additional dissertation committees, and has served as a mentor on multiple faculty members' career development awards. He currently serves as the primary mentor for seven faculty members in BSSM, and has served as a research mentor for numerous medical students.

 

Robb Tomko, Spring 2020 Cohort

 

Biomedical Sciences/Medicine

Tomko studies how cells build, maintain and utilize the proteasome in normal and disease states. His laboratory works on the scale of individual proteins up to whole cells, and integrates approaches spanning biochemistry, cell biology, genetics, proteomics, biophysics and pharmacology. Ultimately, his group aims to utilize the information gained from these basic studies of the proteasome to exploit its assembly and function for therapeutic benefit in human diseases.

 

Debra Fadool, Spring 2020 Cohort

 

Biological Science/Arts and Sciences

Debi has served as a mentor for 12 postdoctoral scholars, 17 PhD students, and 10 honor students during her twenty years at Florida State University (FSU).  She is especially proud that 100% of her trainees are currently engaged in science (industry/government/academia) or science-related jobs (scientific writing).  She has chaired and served on NIH fellowship study sections for NIMH, NIDCD, NINDS for about 15 years.  FSU has recognized her with the Graduate Mentor Award, the Nancy Marcus Professorship, and the Distinguished Research Professor Award.  Currently she directs the Chemosensory Training Grant Program for FSU (NIH, NIDCD) and serves as Associate Dean and Director of the Office of Postdoctoral Affairs.  As such, she enjoys mentoring junior scientists and trainees in both her specialty field and broadly across the campus.

 

Jeannine Turner, Spring 2020 Cohort

 

Edu Psychology & Learning Systems/Education

Dr. Jeannine E. Turner is an Associate Professor in the Department of Educational Psychology and Learning Systems in the College of Education at Florida State University. She joined the faculty in Fall 2004. Her research focuses on issues of motivation, emotions, instruction, and learning. Her current research interests include motivation, learning and "transfer of knowledge" of pre-service teachers; motivation and emotions of teachers with respect to professional development and implementation; and engineering students' motivation and knowledge transfer.

 

Heather Flynn, Spring 2020 Cohort

 

Behavioral Sci and Social Med/Medicine

Heather A. Flynn, Ph.D. is a clinical psychologist, Professor and Interim Chair at the Florida State University College of Medicine in the Department of Behavioral Sciences and Social Medicine. Dr. Flynn's research is focused on improved identification and treatment of depression in women, especially around the time of childbearing. Her studies are specifically aimed at developing and testing psychotherapeutic treatments for depression around the time of pregnancy, and on examining the impact of depression remission on obstetrical and infant outcomes.

 

Lisa Eckel, Spring 2020 Cohort

 

Psychology/Arts and Sciences

Dr. Lisa Eckel is a Professor in the Department of Psychology and the Director of the Interdisciplinary Program in Neuroscience.

Currently, there are two ongoing research programs in my laboratory. The first project investigates the mechanism underlying estradiol's ability to control food intake and regulate body weight in female rodents. To study this problem, we use an integrated approach involving behavioral, physiological, pharmacological, and molecular techniques. The interaction between estrogen and neuropeptides is of particular interest. A second project investigates the changes in neuropeptide secretion associated with activity-based anorexia, an animal model of anorexia nervosa. We are also interested in identifying behavioral patterns in rats that might increase the risk of developing activity-based anorexia.

 

Pamela Keel, Spring 2020 Cohort

 

Psychology/Arts and Sciences

Dr. Pamela Keel is a Distinguished Research Professor in the Department of Psychology.

Current projects include an examination of psychological and biological factors that may distinguish individuals with purging disorder (characterized by recurrent purging following normal or small amounts of food in individuals who are not underweight) from individuals with bulimia nervosa and individuals without eating disorders. We are also developing papers from a 4th assessment wave of a large epidemiological and longitudinal study of bulimic syndromes in which we have sampled college cohorts in 1982, 1992, 2002, and now 2012 with successive waves of 10-, 20-, and now 30-year follow-up assessments of established cohorts. Finally, we have a large grant examining the biological consequences of weight suppression and how these may explain the association between weight suppression and illness maintenance in bulimic syndromes.

 

Justin La Favor, Spring 2020 Cohort

 

Nutrition Food & Exercise Sci/Human Sciences

Dr. Justin La Favor is an Assistant Professor in the Department of Nutrition, Food, and Exercise Sciences.

I am interested in elucidating molecular mechanisms that regulate neurovascular dysfunction resultant from obesity, nutritional factors, and sedentary lifestyle. Therein, I am particularly focused on how these factors promote erectile dysfunction, which is emerging as a potent clinical indicator of future cardiovascular disease. We primarily utilize feeding interventions in rats and mice, surgical approaches to measure nerve-stimulated blood flow induction, microdialysis to monitor blood flow and free radical production, myography to measure in vitro tissue and vascular reactivity, and molecular biology techniques.

 

Nora Underwood, Spring 2020 Cohort

 

Biological Science/Arts and Sciences

Dr. Nora Underwood is a Professor in the Department of Biological Sciences.

I am a population biologist interested in the ecology and evolution of plant-insect interactions. My primary focus is on how genotypic and phenotypic variation among individuals affects the long-term spatial and temporal dynamics of populations. I work on interactions between plants and their insect herbivores because plants and insects are amenable to experimentation and play important roles in both natural and agricultural communities. Because the questions that I ask span levels of organization from characteristics of individuals to populations, and encompass both long and short time frames, I use a combination of greenhouse and field experiments with mathematical modeling in my research.

 

Svenja Wolf, Spring 2021 Cohort

 

Edu Psychology & Learning Sys/Education

Dr. Svenja Wolf is an Assistant Professor in the College of Education. 

My current research centers on the intersection of group dynamics and emotions in sport and other performance contexts such as performing arts and high-pressure work-settings. Across all of my research, I aim to work from strong theoretical frameworks, employ a variety of designs (e.g., multilevel field studies, field, lab, and online experiments) and methods (e.g., questionnaires, GPS tracking, video observations, interviews), and ensure high ecological validity and relevance. I also strongly believe in quality over quantity and a collaborative approach to research.

 

Xian Fan, Spring 2021 Cohort

 

Computer Science/Arts and Sciences

Dr. Xian Fan is an Assistant Professor in the Department of Computer Science.

My research focuses on developing machine learning tools to detect structural variations in DNA using (the combination of) a variety of sequencing technologies, including Illumina, PacBio, Optical Maps and 10x etc, and to analyze single cell sequencing and deconvolve cancer cell heterogeneity. I developed several structural variation detection/characterization tools including HySA, OMIndel and BreakDown. I also participated in developing genomic tools such as BreakDancer, TIGRA-SV, CREST, novoBreak, BreakpointSurveyor and GMT Modeling. During 2015-2018, I was a member of Human Genome Structural Variation Consortium (HGSVC), where I took the leadership in developing and applying machine learning tools to newly sequenced data.

 

Bridget DePrince, Spring 2021 Cohort

 

Chemistry and Biochemistry/Arts and Sciences

Dr. Bridget DePrince is an Instructor for Chemistry in the Department of Chemistry and Biochemistry. 

As Teaching Faculty, I regularly teach courses that span our entire undergraduate curriculum — from the introductory 1000-level to the 4000-level.  As such, I am in a position to build meaningful relationships with students throughout their entire tenure at FSU.   I informally mentor many of our Chemistry and Biochemistry majors hoping to become career research scientists, advising them on a range of topics — from choosing a research group here at FSU to deciding what graduate school or program best fits their goals.  I also participated as a research mentor for our NSF REU program, where my role was very similar.  

 

Michael Shatuk, Spring 2021 Cohort

 

Chemistry and Biochemistry/Arts and Sciences

Dr. Michael Shatruk is the Cottrell Family Professor in the Department of Chemistry and Biochemistry.

Research in our group focuses on inorganic and organic materials chemistry. We rely on the synthesis and crystal structure determination methods, complemented by advanced optical, magnetic, and theoretical techniques, to discover new magnets, catalysts, and stimuli-responsive materials. Our main research directions are (1) molecular magnetism, photomagnetism, and spintronics; (2) magnetism of intermetallic compounds and 2-D materials; (3) heterogeneous catalysis by intermetallics and alloys. 

 

 

Eugene DePrince, III, Spring 2021 Cohort

 

Chemistry and Biochemistry/Arts and Sciences

Dr. Eugene De Prince is an Associate Professor in the Department of Chemistry and Biochemistry.

High-quality electronic structure software is an essential component of modern chemical research, and open-source software is particularly valuable. Our primary research efforts are dedicated to the development of open-source tools for modeling the electronic structure of complex molecules and materials. In particular, we develop computationally affordable methods for the accurate description of strongly correlated electrons and explicitly time-dependent light-matter interactions.

 

Xiaonan Zhang, Spring 2021 Cohort

 

Computer Science/Arts and Sciences

Dr. Xiaonan Zhang is an Assistant Professor in the Department of Computer Science.

My current research interests include wireless networking and systems, Internet of Things (IoT), and wireless security. I would like to identify new problems and solve them by considering both wireless techniques and machine learning approaches. I received my Ph.D. degree in Electrical and Computer Engineering at Clemson University in 2020. Previously, I received my M.S. degree in Electrical and Computer Engineering from Binghamton University in 2017. I was the research assistant in Beijing University of Posts and Telecommunications from 2012 to 2015.

 

Andy Wang, Spring 2021 Cohort

 

Computer Science/Arts and Sciences

Andy Wang received his Ph.D. and M.S. in computer science from UCLA in 2003 and 1998, and his B.S. from UC Berkeley in 1995. He joined the Department of Computer Science at Florida State University as an Assistant Professor in 2003. His research interests include file systems, optimistic peer replication, performance evaluation, ad hoc network routing, operating systems, and distributed systems.

 

Sonia Haiduc, Spring 2021 Cohort

 

Computer Science/Arts and Sciences

Dr. Haiduc's research interests are in software engineering, including software maintenance and evolution, program comprehension, source code search, and applications of information retrieval and natural language processing for solving software engineering tasks. Her work has been published in several highly selective software engineering venues, including the IEEE/ACM International Conference on Software Engineering. She serves on the Program Committee of several international conferences on software evolution and program comprehension and is a reviewer for journals such as the IEEE Transactions in Software Engineering, Journal of Software: Evolution and Process, and Automated Software Engineering.

 

Kenneth Hanson, Spring 2021 Cohort

 

Chemistry and Biochemistry/Arts and Sciences

Kenneth Hanson received a B.S. in Chemistry from Saint Cloud State University (2005), his Ph.D. from the University of Southern California (2010), followed by an appointment as a postdoctoral scholar at the University of North Carolina at Chapel Hill (2010–2013). His independent research career began in 2013 at Florida State University as a member of the Department of Chemistry & Biochemistry and is affiliated with the Materials Science & Engineering program. His current research interests include the design, synthesis, and characterization of photoactive molecules/materials with particular emphasis on manipulating energy and electron-transfer dynamics for application in solar energy conversion and catalysis. 

 

 

Irene Zanini-Cordi, Summer 2021 Cohort

 

Modern Languages and Linguistics /Arts and Sciences

Professor Zanini-Cordi (Ph.D., Italian Studies, University of California, Berkeley) specializes in Renaissance, 18th- and 19th- century and contemporary Italian literature, with emphasis on Critical Theory and women's writing. Professor Zanini-Cordi's first book, Donne sciolte, explores the figure of the woman abandoned by her lover in Italian literature. Her current research interest is on Social Network Theory, Italian salons and salonnières, and on women's writing in 18th- and 19th- century Italy. She is completing a book manuscript focusing on the writings of the women who animated Italian salons/salotti di cultura from just before the French Revolution to the unification of Italy. Professor Zanini-Cordi is the recipient of several grants and fellowships among which, most recently, the National Endowment for the Humanities Fellowship (NEH) (2011-2012), and the National Endowment for the Humanities Summer Seminar at the American Academy in Rome (2011).

 

Gilad Rabinovitch, Summer 2021 Cohort

 

Music Theory and Composition/Music

Assistant Professor of Music Theory Gilad Rabinovitch completed Ph.D. degrees in Composition (2013) and Music Theory (2015) at the Eastman School of Music, with prior training at the Hebrew University of Jerusalem and the Jerusalem Academy of Music. His research interests include eighteenth-century phrase schemata and the reimagining of historical improvisation, bridging past and present approaches to music-making and teaching. His articles and reviews have appeared (or are forthcoming) in Music Theory Spectrum, Music Theory Online, Journal of Music Theory, Music Theory & Analysis, Theoria, Indiana Theory Review, Journal of Music Theory Pedagogy, Engaging Students, Empirical Musicology Review, and Eighteenth-Century Music, as well as in an edited volume on keyboard skills (Olms). He has presented at conferences including several annual meetings of the Society for Music Theory and the 9th European Music Analysis Conference (Strasbourg, 2017). He has also given invited lectures and workshops at institutions including Cornell University, the University of Michigan, and the University of Texas at Austin.

 

Tanya Peres, Summer 2021 Cohort

 

Anthropology/Arts and Sciences

Dr. Tanya M. Peres is an Associate Professor of Anthropology, with a specialization in Zooarchaeology. Dr. Peres earned a PhD in Anthropology from the University of Florida (2001) and an MA (1997) and BA (1995) from the Florida State University, both in Anthropology. She is a Registered Professional Archaeologist since 2001 and has nearly two decades of field and lab experience on academic and applied prehistoric and historic archaeological projects across the Southeastern United States, Panama, Mexico, and Scotland. Dr. Peres is interested in the relationships between humans and their environments, and humans and animals - especially in terms of subsistence and how animals were incorporated into the native worldview. She is the director of the Middle Cumberland Archaeology Project and the Rutherford County Archaeology Research Program.

 

John Schwenkler, Summer 2021 Cohort

 

Philosophy/Arts and Sciences 

Dr. John Schwenkler is a Professor in the Department of Philosophy at Florida State University. His first monograph, Anscombe's Intention: A Guide, was published in 2019 by Oxford University Press. ​With Enoch Lambert he is the co-editor of Becoming Someone New: Essays on Transformative Experience, Choice, and Change, a collection of papers by philosophers and social scientists that was published in 2020 by Oxford University Press. And with Samuel Guttenplan, Jennifer Hornsby, and Christopher Janaway he is an author of the second edition of ​Reading Philosophy: Selected Texts With a Method for Beginners, an introductory textbook published in 2020 by Wiley-Blackwell. His  research interests are centered around the philosophy of mind and action, but also touch on questions in ethics, epistemology, the philosophy of language, and more.

 

 

Summer 2021 Cohort

 

History/Arts and Sciences

Michael Creswell, Associate Professor of History, a specialist on international politics, the Cold War, and military affairs, has published "Between the Bear and the Phoenix: The United States and the European Defense Community," in L'échec de la CED: leçons pour demain?, ed. Michel Dumoulin (Peter Lang, 2000) and "How France Secured an Anglo-American Continental Commitment, 1945-54," in Cold War History. With Marc Trachtenberg, Creswell is the author of "France and the German Question, 1945-1955," which appeared in the Journal of Cold War Studies. He is the author of A Question of Balance: How France and the United States Created Cold War Europe (Harvard, 2006). His next book will examine how France rebuilt its army after the Second World War. His research interests include: Contemporary Europe, International Politics, Cold War History, Military Affairs

 

Kristin Dowell, Summer 2021 Cohort

 

Art History/Fine Arts

Dr. Kristin Dowell, Director of Museum and Cultural Heritage Studies, Associate Professor, specializes in art of Native North America with an emphasis on Indigenous cinema and contemporary art. She is a settler scholar deeply committed to a decolonial research and teaching practice that centers and amplifies the work of the Indigenous filmmakers and artists with whom she has collaborated with for close to 20 years. Her single-author book, Sovereign Screens: Aboriginal Media on the Canadian West Coast (2013), is the first ethnographic monograph of the vibrant and dynamic Indigenous media world in Vancouver. Her research investigates the active processes through which Indigenous filmmakers and artists visualize Indigenous stories, cultural knowledge, and aesthetic traditions. She focuses on their use of experimental forms of art and media in their efforts to express and enact visual sovereignty through their on-screen aesthetics and off-screen production practices.

 

Alisha Gaines, Summer 2021 Cohort

 

English/Arts and Sciences

Alisha Gaines is the Timothy Gannon Associate Professor of English with a PhD in English and a certificate in African and African American Studies from Duke University. From 2009-2011 she held a Carter G. Woodson postdoctoral fellowship at the University of Virginia. Since joining the faculty in 2011, Dr. Gaines was named a 2014-2015 McKnight Junior Faculty Development Fellow. In 2014, FSU's Spiritual Life Project honored her with a Transformation Through Teaching Award, and she won a university-wide Undergraduate Teaching Award in 2017. Her first manuscript, Black for a Day: Fantasies of Race and Empathy, was published with UNC Press (Spring 2017). She is currently researching her second manuscript on empathy and transatlantic, historical reenactments of, and public histories about, slavery and segregation.

 

 

Kellen Hoxworth, Summer 2021 Cohort

 

School of Theatre/Fine Arts

Kellen Hoxworth is Assistant Professor in the School of Theatre at Florida State University. His research focuses on the formations of race and coloniality, particularly in the transhistorical performance networks of the global south. His current book project, Transoceanic Blackface: Empire, Race, Performance (under advance contract with Northwestern University Press), traces the formation of blackface minstrel performance networks throughout the British Empire and the global Anglophone world. His writing has been published in Modern Drama, Theatre Survey, Contemporary Theatre Review, and Performance Research. He also co-edited and co-curated the PSi19 performance blog, from which several posts were selected for publication in Performance Research 19.3 (2014). In 2018, his essay "The Many Racial Effigies of Sara Baartman" was selected by the American Society for Theatre Research as the recipient of the Errol Hill Award for outstanding scholarship in African American theatre, drama, and/or performance studies. As an artist, Kellen is a director, dramaturg, and performer. He approaches performance as a charged site at the intersections of affect, representation, corporeality, and material practice.

Jordan Montgomery, Fall 2021 Cohort

Immokalee Health Education Site/Medicine

Dr. Jordan Montgomery completed her bachelors of science degree in Family Studies and Human Development at the University of Arizona. She completed her master of arts in Marriage and Family Therapy at Appalachian State University and her Ph.D. in Marriage and Family Therapy at Florida State University. In 2019, she was awarded the Dissertation Award from the American Association of Marriage and Family Therapy Research Foundation for her dissertation study, Culturally Competent Parenting: A Test of Web-Based Training for Transracial Foster and Adoptive Parents. She did her postdoc fellowship at FSU College of Medicine's Center for Child Stress and Health in Immokalee, Florida. Dr. Montgomery is currently Research Faculty at the Center for Child Stress and Health, helping to assess adverse childhood experiences and health outcomes in migrant farm working families. She is also a licensed marriage and family therapist in the state of Florida and provides part-time trauma response counseling at the center to patients in need in the community.

Bret Staudt Willet, Fall 2021 Cohort

Instructional Systems & Learning Technologies/Education

Dr. Bret Staudt Willet (he/him; last name: Staudt Willet) is an Assistant Professor of Instructional Systems & Learning Technologies at Florida State University. Dr. Staudt Willet's research investigates networked learning in online communities. He explores this area in four ways. First, he studies informal learning environments such as those supported by social media platforms like Twitter and Reddit. Second, he examines the identity-agency needed to navigate these environments, especially during disruptions and transitions. Third, he writes about and seeks greater understanding of technoethical issues raised by seeking professional learning in social networks. Fourth, and finally, he is interested in data science applications for educational research, such as the principles of open science, data mining of digital traces, social network analysis, and learning analytics.

 

 

Terry Londy, Fall 2021 Cohort

Interior Architecture and Design/ Fine Arts

Terry Londy is an Assistant Professor in the Department of Interior Architecture and Design. A Detroit maker with commercial experience in Graphic & Interior Design, Terry specializes in the role of Brand in the built environment. In Chicago, his skillset began to evolve through the many facets of Environmental Graphic Design, signage and wayfinding, and ultimately finding his passion with large Branding projects. Terry posits that the key to great design is understanding that the Brand is much more than a logo, but is more of a living, breathing entity. It becomes an icon that drives consumers to buy & creates die hard loyalty. The design challenge is creating the intersection with the user and the Brand, storytelling, developing the experience, and ultimately building the connection they make to the space. Recently leaving practice for academia, he now seeks to develop and invest in students. His approach to the classroom setting is like a commercial design studio, infusing the value of team building and interaction, as well as demonstrating the value of fostering client relationships and how to build them.

Ene Ikpebe, Fall 2021 Cohort

SOCIAL SCIENCES & PUBLIC POLICY

Professor Ene Ikpebe conducts interdisciplinary research across the fields of public management, public administration, and public policy. She is most interested in questions concerning women's human capital development as advanced by education or hindered by issues such as early marriage. Her research also includes studies of African women in the US where she focuses on questions of labor market assimilation and wage discrimination in the US (published at American Economist and Atlantic Economic Journal). In the fall of 2021, Professor Ikpebe is teaching PAD 5227: Managing Financial Resources. A Nigerian native, she comes to Tallahassee by way of Illinois Wesleyan University where she received her bachelor's in economics and American University in DC where she received her MPP and PhD in public administration.

 

Julie Brancale, Fall 2021 Cohort

Criminology and Criminal Justice

Julie Brancale is an Assistant Professor and Co-Director, Center for Criminology and Public Policy Research. Her research focuses upon identifying and evaluating methods to more effectively incorporate research into criminal and juvenile justice policy and practice. Additionally, she studies financial exploitation and victimization of older adults and the role of education and school factors on delinquency.

Kimberly M. Davidson, Fall 2021 Cohort

Criminology and Criminal Justice

Kimberly M. Davidson is an Assistant Professor in Criminology and Criminal Justice. She received her Ph.D. in Criminology from The Pennsylvania State University. Her research focuses on corrections, programming and rehabilitation, community reentry, substance use.

Alisa Hauser, Fall 2021 Cohort

Music Theatre/ Music

Alisa Hauser is an Assistant Professor in Music Theatre.  She holds a BFA in Musical Theatre from Cincinnati College-Conservatory of Music and a Masters in Voice Pedagogy from Westminster Choir College/Rider University. Teaching experience includes positions at Michigan State University and Westfield State University as well as being on the voice faculty of the Brattleboro Music Center and Music Theatre of Connecticut. She holds a Level 3 certificate in Somatic Voicework – The LoVetri Method™ and teaches a functional approach to voice training specializing in contemporary commercial music. As a performer, Alisa appeared on Broadway in the original cast of Thoroughly Modern Millie (Alice), Grease! (Frenchy), and in the original cast of Disney's Beauty and The Beast (Silly Girl). Some of her favorite regional and stock roles include Peggy Sawyer in 42nd Street at Theatre-By-The-Sea, Judy in A Chorus Line at Stages St. Louis, and Her/Barb in Romance/Romance at the Fulton Opera House. Other theatre credits include shows at Paper Mill Playhouse, Seven Angels Theatre, Music Theatre Wichita, and the Goodspeed Opera House. In 2014 Alisa was nominated for a national primetime Emmy award for Outstanding Music and Lyrics for the song "No Trouble" from A Christmas Carol – The Concert (PBS).




Karina Donald, Fall 2021 Cohort

Art Therapy/ Fine Arts

Karina Donald is art therapist and marriage and family therapist who is passionate about integrating culturally-sensitive mental health interventions among underserved families. Drawing from her experiences as an educator and clinician in her home country Grenada and English-speaking Caribbean countries, her current research focuses on ascertaining culturally-relevant interventions for families who are highly stressed and how art and family therapists can tap into existing resources to support those families. As an art therapist, she specializes in trauma, anxiety, and depression, among children, adolescents, and families. Her clinical experience spans underserved populations in the US and Caribbean through teletherapy and in person.

Jacob Eikenberry, Fall 2021 Cohort

Institute of Justice Research and Development/ Social Work

Jacob Eikenberry is a Research Faculty member focused on Behavioral Health and Criminal Justice for the Institute of Justice Research and Development. In this role, he oversees all aspects of implementation and data collection for the many IJRD research projects being conducted in states across the nation. He is focused on creating sustainable alternatives to incarceration and improving the systems that intersect with currently and formerly incarcerated individuals, their families, and their communities. 

His research interests include exploring the intersection of trauma, mental health, and substance misuse for justice-involved individuals and examining how peer mentorship and peer support may facilitate healthy transitions for individuals exiting the criminal justice system.

 

Emily Stewart, Fall 2021 Cohort

Earth, Ocean, & Atmospheric Science/ Arts & Sciences 

Emily Stewart is an Assistant Professor of Geology in the Department of Earth, Ocean, & Atmospheric Science.  She uses the rock record to investigate processes that occurred deep in Earth's crust and throughout the billions of years of our planet's history. She is particularly interested in metamorphic reactions that release or sequester CO2 and other volatiles, interacting with the global carbon cycle, and helping to maintain Earth's long term habitability.  Her work is rooted in direct observation of the rock record including field work, petrography, and geochemical characterization. Rather than focusing on a particular analytical method, she employs different techniques as needed, including stable/radiogenic isotope mass spectrometry, X-ray fluorescence, microprobe analysis, and more. Most of her work also involves thermodynamic modeling (e.g., pseudosections).

​

Maria Ryan, Fall 2021 Cohort

Musicology/ Music

Assistant Professor of Musicology Maria Ryan researches and writes about how African and African-descended people in the Americas theorized, performed, and listened to music with European origins in the eighteenth and nineteenth centuries. She holds the B.A. degree from the University of Nottingham, the M.Mus. degree from King's College London, and the Ph.D. in musicology with a certificate in Africana studies from the University of Pennsylvania. Dr. Ryan's current project investigates the relationship between racialization and music in the British colonial Caribbean, exploring the many ways that African-descended musicians and listeners engaged with music with European origins. Sometimes this engagement functioned as a way to assert their intellectual and aesthetic capabilities, while simultaneously learning, theorizing, and subverting the music of those who enslaved and subjugated them. Early work from this project can be seen in the article "'The influence of Melody upon man in the wild state of nature": Enslaved Parishioners, Anglican Violence, and Racialized Listening in a Jamaica Parish" in the Journal of the Society for American Music (forthcoming, Summer 2021).

Benjamin W. Fisher, Fall 2021 Cohort

Criminology and Criminal Justice

Benjamin W. Fisher received his Ph.D. in Community Research and Action from Vanderbilt University. His work focuses on school criminalization, which refers to the application of criminal justice system technologies, strategies, and logics within school settings. Within this domain, he studies topics like police in schools, punishment of students, and the use of school security measures. Dr. Fisher foregrounds equity and social justice in his work, particularly issues of racial justice.

 

Dr. Nathan (David) Pifer, Fall 2021 Cohort

Sports Management/ Education

Dr. Nathan (David) Pifer is an Assistant Professor of Sports Management.  He researches sports analytics, the use of data and statistical methods to help sport organizations and individuals make better decisions. He is primarily concerned with variables related to on-field/on-court team, player, and coach performance, and how analytics can help these parties enhance their decision-making by overcoming errant traditions, biases, and heuristics. Dr. Pifer's work has been published in the Journal of Sports Economics, the Journal of Sports Analytics, the Journal of Sport Management, and other notable journals and books. He has also developed and taught sports analytics classes at the undergraduate and graduate levels.



---
Contact
Thank you for your interest in the Research Mentoring Academy.  If you have any questions, please contact Rachel Goff-Albritton, PhD, CCC-SLP, with any questions.