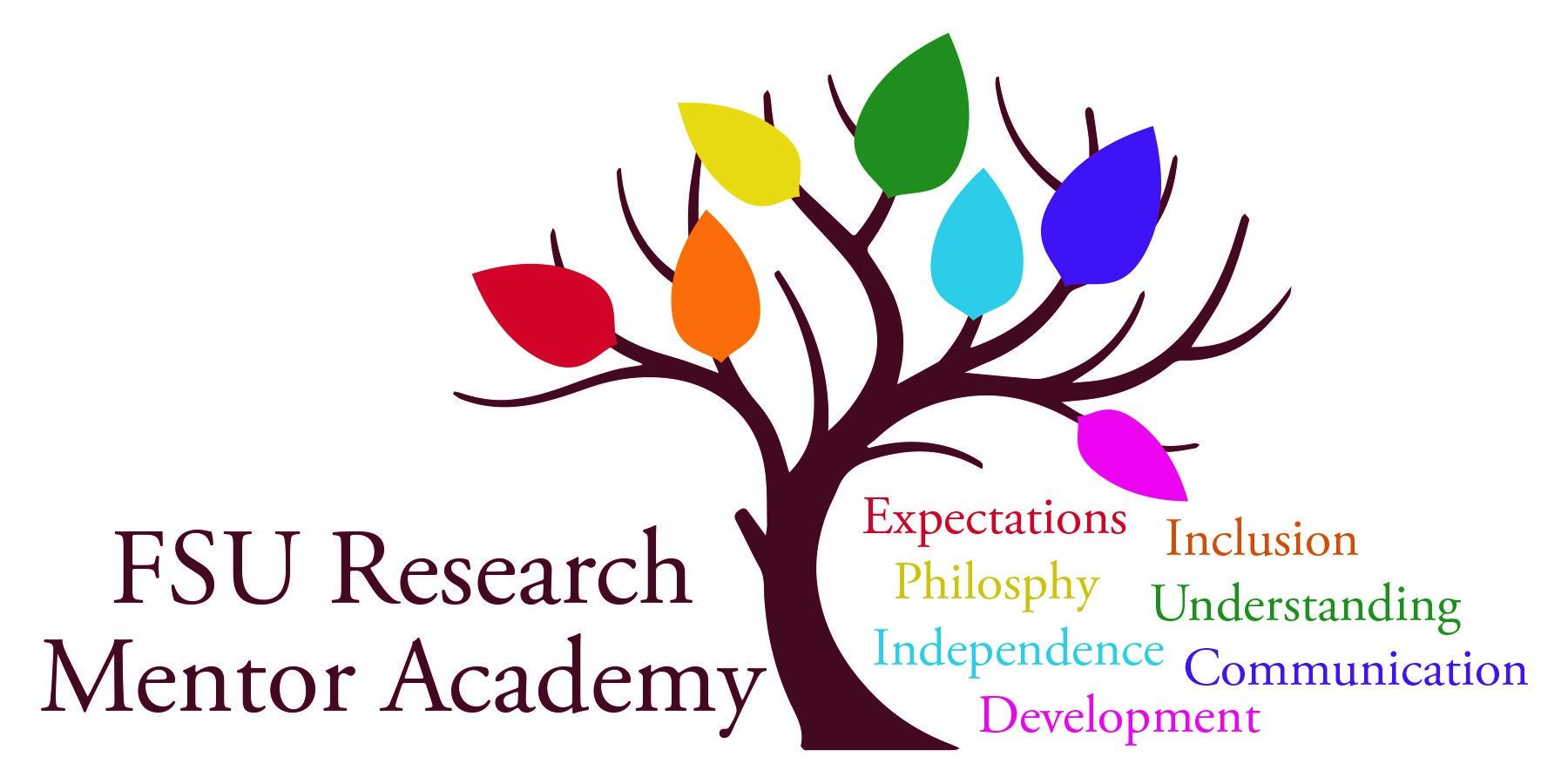 ---
"Mentorship is a professional, working alliance in which individuals work together over time to support the personal and professional growth, development, and success of the relational partners through the provision of career and psychosocial support."
-The National Academies of Sciences, Engineering, and Medicine Consensus Study Report "The Science of Effective Mentorship in STEMM"
---

What is the Research Mentor Academy?
Effective research mentoring relationships are critical to developing the next generation of researchers.  The mission of the FSU research mentor academy, conducted by the FSU Office of Research Development and co-sponsored by the FSU CTSA Program, is to promote a culture of support for research mentoring and to provide training in optimizing mentoring relationships for mentors and mentees at all levels of their research careers. 
Our training is based on the research mentoring curricula from our research partners at the Clinical and Translational Science Institute at the University of Florida and an evidence-based curriculum from the the Center for the Improvement of Mentored Experiences in Research (CIMER), using an interactive approach that allows participants to explore an intellectual framework for research mentoring within a community of their peers. This approach provides mentors with opportunities for reflection and a forum to solve mentoring dilemmas and share successful mentorship strategies. You can read more about the development of these training materials here.
The FSU Research Mentor Academy is structured around a series of interactive learning sessions on topics relevant to successful mentor-mentee interactions. Dr. Rachel Goff-Albritton, Assistant Director of the Office of Research Development, leads the Research Mentor Academy. The training covers topics related to research mentoring relationships, such as:
Aligning Expectations
Addressing Equity and Inclusion
Assessing Understanding
Fostering Independence
Maintaining Effective Communication
Promoting Professional Development
Cultivating Ethical Behaviors
Promoting Mentee Research Self-Efficacy
Enhancing Work-Life Integration
Articulating Your Mentoring Philosophy and Action Plan
FSU research mentors who attends all sessions will be listed and recognized within their cohort on this page below and will receive a certificate of completion.  Your completion of this training can be listed on your CV and, if applicable, is important to be listed on training grant applications. If you are interested in learning about mentoring best practices, then the FSU Research Mentor Academy is the place to be.
Who Should Attend?
We are currently offering this training to FSU faculty who conduct research and creative activities and who are currently active in mentoring early career researchers, including undergraduate students, graduate students, postdocs, and junior faculty.
Faculty who serve as research mentors on training grants are encouraged to attend.
---
Registration
Spring 2021 Research Mentor Academy Registration is Now Closed
Interested in attending a future session?  Click here to join our waiting list for future sessions: Waiting List
---
Details on Sessions:
Spring 2021 Sessions
When: During the Spring Semester 2021, Noon to 2pm, Four Sessions on Wednesday March 31, April 7th, 14th, and 21st  
Where: This will be a Virtual Event (Zoom links and details will be sent to registrants)
Agenda for Sessions 
Sessions
Discussion Topics
Session 1
Introduction to Research Mentor Training
Maintaining Effective Communication
Session 2 
Addressing Equity and Inclusion
Aligning Expectations
Session 3
Assessing Understanding
Fostering Independence 
Session 4
Promoting Professional Development
Articulating your Mentoring Philosophy and Action Plan
Concluding remarks
---
Research Mentor Academy Cohorts
Mentors
Department/College
Bio

 

Jeffrey Harman, Spring 2020 Cohort

Behavioral Sci and Social Med/Medicine

Jeffrey Harman, PhD, is a Professor in the Department of Behavioral Sciences & Social Medicine (BSSM) at the FSU College of Medicine. He is a health economist who conducts research on health policy and teaches applied statistics at the College of Medicine. Dr. Harman has extensive experience with mentorship. He is currently the chair of the Mentoring Committee in BSSM, has chaired or co-chaired 16 dissertation committees, served as a member on 23 additional dissertation committees, and has served as a mentor on multiple faculty members' career development awards. He currently serves as the primary mentor for seven faculty members in BSSM, and has served as a research mentor for numerous medical students.

 

Robb Tomko, Spring 2020 Cohort

Biomedical Sciences/Medicine

Tomko studies how cells build, maintain and utilize the proteasome in normal and disease states. His laboratory works on the scale of individual proteins up to whole cells, and integrates approaches spanning biochemistry, cell biology, genetics, proteomics, biophysics and pharmacology. Ultimately, his group aims to utilize the information gained from these basic studies of the proteasome to exploit its assembly and function for therapeutic benefit in human diseases.

 

Debra Fadool, Spring 2020 Cohort

Biological Science/Arts and Sciences

Debi has served as a mentor for 12 postdoctoral scholars, 17 PhD students, and 10 honor students during her twenty years at Florida State University (FSU).  She is especially proud that 100% of her trainees are currently engaged in science (industry/government/academia) or science-related jobs (scientific writing).  She has chaired and served on NIH fellowship study sections for NIMH, NIDCD, NINDS for about 15 years.  FSU has recognized her with the Graduate Mentor Award, the Nancy Marcus Professorship, and the Distinguished Research Professor Award.  Currently she directs the Chemosensory Training Grant Program for FSU (NIH, NIDCD) and serves as Associate Dean and Director of the Office of Postdoctoral Affairs.  As such, she enjoys mentoring junior scientists and trainees in both her specialty field and broadly across the campus.

 

Jeannine Turner, Spring 2020 Cohort

Edu Psychology & Learning Sys/Education

Dr. Jeannine E. Turner is an Associate Professor in the Department of Educational Psychology and Learning Systems in the College of Education at Florida State University. She joined the faculty in Fall 2004. Her research focuses on issues of motivation, emotions, instruction, and learning. Her current research interests include motivation, learning and "transfer of knowledge" of pre-service teachers; motivation and emotions of teachers with respect to professional development and implementation; and engineering students' motivation and knowledge transfer.

 

Heather Flynn, Spring 2020 Cohort

Behavioral Sci and Social Med/Medicine

Heather A. Flynn, Ph.D. is a clinical psychologist, Professor and Interim Chair at the Florida State University College of Medicine in the Department of Behavioral Sciences and Social Medicine. Dr. Flynn's research is focused on improved identification and treatment of depression in women, especially around the time of childbearing. Her studies are specifically aimed at developing and testing psychotherapeutic treatments for depression around the time of pregnancy, and on examining the impact of depression remission on obstetrical and infant outcomes.

 

Lisa Eckel, Spring 2020 Cohort

Psychology/Arts and Sciences

Dr. Lisa Eckel is a Professor in the Department of Psychology and the Director of the Interdisciplinary Program in Neuroscience.

Currently, there are two ongoing research programs in my laboratory. The first project investigates the mechanism underlying estradiol's ability to control food intake and regulate body weight in female rodents. To study this problem, we use an integrated approach involving behavioral, physiological, pharmacological, and molecular techniques. The interaction between estrogen and neuropeptides is of particular interest. A second project investigates the changes in neuropeptide secretion associated with activity-based anorexia, an animal model of anorexia nervosa. We are also interested in identifying behavioral patterns in rats that might increase the risk of developing activity-based anorexia.

 

Pamela Keel, Spring 2020 Cohort

Psychology/Arts and Sciences

Dr. Pamela Keel is a Distinguished Research Professor in the Department of Psychology.

Current projects include an examination of psychological and biological factors that may distinguish individuals with purging disorder (characterized by recurrent purging following normal or small amounts of food in individuals who are not underweight) from individuals with bulimia nervosa and individuals without eating disorders. We are also developing papers from a 4th assessment wave of a large epidemiological and longitudinal study of bulimic syndromes in which we have sampled college cohorts in 1982, 1992, 2002, and now 2012 with successive waves of 10-, 20-, and now 30-year follow-up assessments of established cohorts. Finally, we have a large grant examining the biological consequences of weight suppression and how these may explain the association between weight suppression and illness maintenance in bulimic syndromes.

 

Justin La Favor, Spring 2020 Cohort

Nutrition Food & Exercise Sci/Human Sciences

Dr. Justin La Favor is an Assistant Professor in the Department of Nutrition, Food, and Exercise Sciences.

I am interested in elucidating molecular mechanisms that regulate neurovascular dysfunction resultant from obesity, nutritional factors, and sedentary lifestyle. Therein, I am particularly focused on how these factors promote erectile dysfunction, which is emerging as a potent clinical indicator of future cardiovascular disease. We primarily utilize feeding interventions in rats and mice, surgical approaches to measure nerve-stimulated blood flow induction, microdialysis to monitor blood flow and free radical production, myography to measure in vitro tissue and vascular reactivity, and molecular biology techniques.

 

Nora Underwood, Spring 2020 Cohort

Biological Science/Arts and Sciences

Dr. Nora Underwood is a Professor in the Department of Biological Sciences.

I am a population biologist interested in the ecology and evolution of plant-insect interactions. My primary focus is on how genotypic and phenotypic variation among individuals affects the long-term spatial and temporal dynamics of populations. I work on interactions between plants and their insect herbivores because plants and insects are amenable to experimentation and play important roles in both natural and agricultural communities. Because the questions that I ask span levels of organization from characteristics of individuals to populations, and encompass both long and short time frames, I use a combination of greenhouse and field experiments with mathematical modeling in my research.

 

Svenja Wolf, Spring 2021 Cohort

Edu Psychology & Learning Sys/Education

Dr. Svenja Wolf is an Assistant Professor in the College of Education. 

My current research centers on the intersection of group dynamics and emotions in sport and other performance contexts such as performing arts and high-pressure work-settings. Across all of my research, I aim to work from strong theoretical frameworks, employ a variety of designs (e.g., multilevel field studies, field, lab, and online experiments) and methods (e.g., questionnaires, GPS tracking, video observations, interviews), and ensure high ecological validity and relevance. I also strongly believe in quality over quantity and a collaborative approach to research.

 

Xian Fan, Spring 2021 Cohort

Computer Science/Arts and Sciences

Dr. Xian Fan is an Assistant Professor in the Department of Computer Science.

My research focuses on developing machine learning tools to detect structural variations in DNA using (the combination of) a variety of sequencing technologies, including Illumina, PacBio, Optical Maps and 10x etc, and to analyze single cell sequencing and deconvolve cancer cell heterogeneity. I developed several structural variation detection/characterization tools including HySA, OMIndel and BreakDown. I also participated in developing genomic tools such as BreakDancer, TIGRA-SV, CREST, novoBreak, BreakpointSurveyor and GMT Modeling. During 2015-2018, I was a member of Human Genome Structural Variation Consortium (HGSVC), where I took the leadership in developing and applying machine learning tools to newly sequenced data.

 

Bridget DePrince, Spring 2021 Cohort

Chemistry and Biochemistry/Arts and Sciences

Dr. Bridget DePrince is an Instructor for Chemistry in the Department of Chemistry and Biochemistry. 

As Teaching Faculty, I regularly teach courses that span our entire undergraduate curriculum — from the introductory 1000-level to the 4000-level.  As such, I am in a position to build meaningful relationships with students throughout their entire tenure at FSU.   I informally mentor many of our Chemistry and Biochemistry majors hoping to become career research scientists, advising them on a range of topics — from choosing a research group here at FSU to deciding what graduate school or program best fits their goals.  I also participated as a research mentor for our NSF REU program, where my role was very similar.  

 

Michael Shatuk, Spring 2021 Cohort

Chemistry and Biochemistry/Arts and Sciences

Dr. Michael Shatruk is the Cottrell Family Professor in the Department of Chemistry and Biochemistry.

Research in our group focuses on inorganic and organic materials chemistry. We rely on the synthesis and crystal structure determination methods, complemented by advanced optical, magnetic, and theoretical techniques, to discover new magnets, catalysts, and stimuli-responsive materials. Our main research directions are (1) molecular magnetism, photomagnetism, and spintronics; (2) magnetism of intermetallic compounds and 2-D materials; (3) heterogeneous catalysis by intermetallics and alloys. 

 

 

Nasrin Alamdari, Spring 2021 Cohort

Civil & Environmental Engineering/Engineering

Dr. Nasrin Alamdari is an Assistant Professor in the Department of Civil and Environmental Engineering. 

My research focuses primarily on the areas of urban hydrology, hydrologic/hydraulic modeling, sustainable and resilient urban water systems, stormwater management, smart city technologies, surface-groundwater interaction, and impact of nonstationary stressors—climate and land use change on hydrology and biogeochemistry.

 

Eugene DePrince, III, Spring 2021 Cohort

Chemistry and Biochemistry/Arts and Sciences

Dr. Eugene De Prince is an Associate Professor in the Department of Chemistry and Biochemistry.

High-quality electronic structure software is an essential component of modern chemical research, and open-source software is particularly valuable. Our primary research efforts are dedicated to the development of open-source tools for modeling the electronic structure of complex molecules and materials. In particular, we develop computationally affordable methods for the accurate description of strongly correlated electrons and explicitly time-dependent light-matter interactions.

 

Xiaonan Zhang, Spring 2021 Cohort

Computer Science/Arts and Sciences

Dr. Xiaonan Zhang is an Assistant Professor in the Department of Computer Science.

My current research interests include wireless networking and systems, Internet of Things (IoT), and wireless security. I would like to identify new problems and solve them by considering both wireless techniques and machine learning approaches. I received my Ph.D. degree in Electrical and Computer Engineering at Clemson University in 2020. Previously, I received my M.S. degree in Electrical and Computer Engineering from Binghamton University in 2017. I was the research assistant in Beijing University of Posts and Telecommunications from 2012 to 2015.

Andy Wang, Spring 2021 Cohort

Computer Science/Arts and Sciences

Andy Wang received his Ph.D. and M.S. in computer science from UCLA in 2003 and 1998, and his B.S. from UC Berkeley in 1995. He joined the Department of Computer Science at Florida State University as an Assistant Professor in 2003. His research interests include file systems, optimistic peer replication, performance evaluation, ad hoc network routing, operating systems, and distributed systems.

Sonia Haiduc, Spring 2021 Cohort

Computer Science/Arts and Sciences

Dr. Haiduc's research interests are in software engineering, including software maintenance and evolution, program comprehension, source code search, and applications of information retrieval and natural language processing for solving software engineering tasks. Her work has been published in several highly selective software engineering venues, including the IEEE/ACM International Conference on Software Engineering. She serves on the Program Committee of several international conferences on software evolution and program comprehension and is a reviewer for journals such as the IEEE Transactions in Software Engineering, Journal of Software: Evolution and Process, and Automated Software Engineering.

Kenneth Hanson, Spring 2021 Cohort

Chemistry and Biochemistry/Arts and Sciences

Kenneth Hanson received a B.S. in Chemistry from Saint Cloud State University (2005), his Ph.D. from the University of Southern California (2010), followed by an appointment as a postdoctoral scholar at the University of North Carolina at Chapel Hill (2010–2013). His independent research career began in 2013 at Florida State University as a member of the Department of Chemistry & Biochemistry and is affiliated with the Materials Science & Engineering program. His current research interests include the design, synthesis, and characterization of photoactive molecules/materials with particular emphasis on manipulating energy and electron-transfer dynamics for application in solar energy conversion and catalysis. 

 
---
Contact
Thank you for your interest in the Research Mentoring Academy.  If you have any questions, please contact Rachel Goff-Albritton, PhD, CCC-SLP, with any questions.