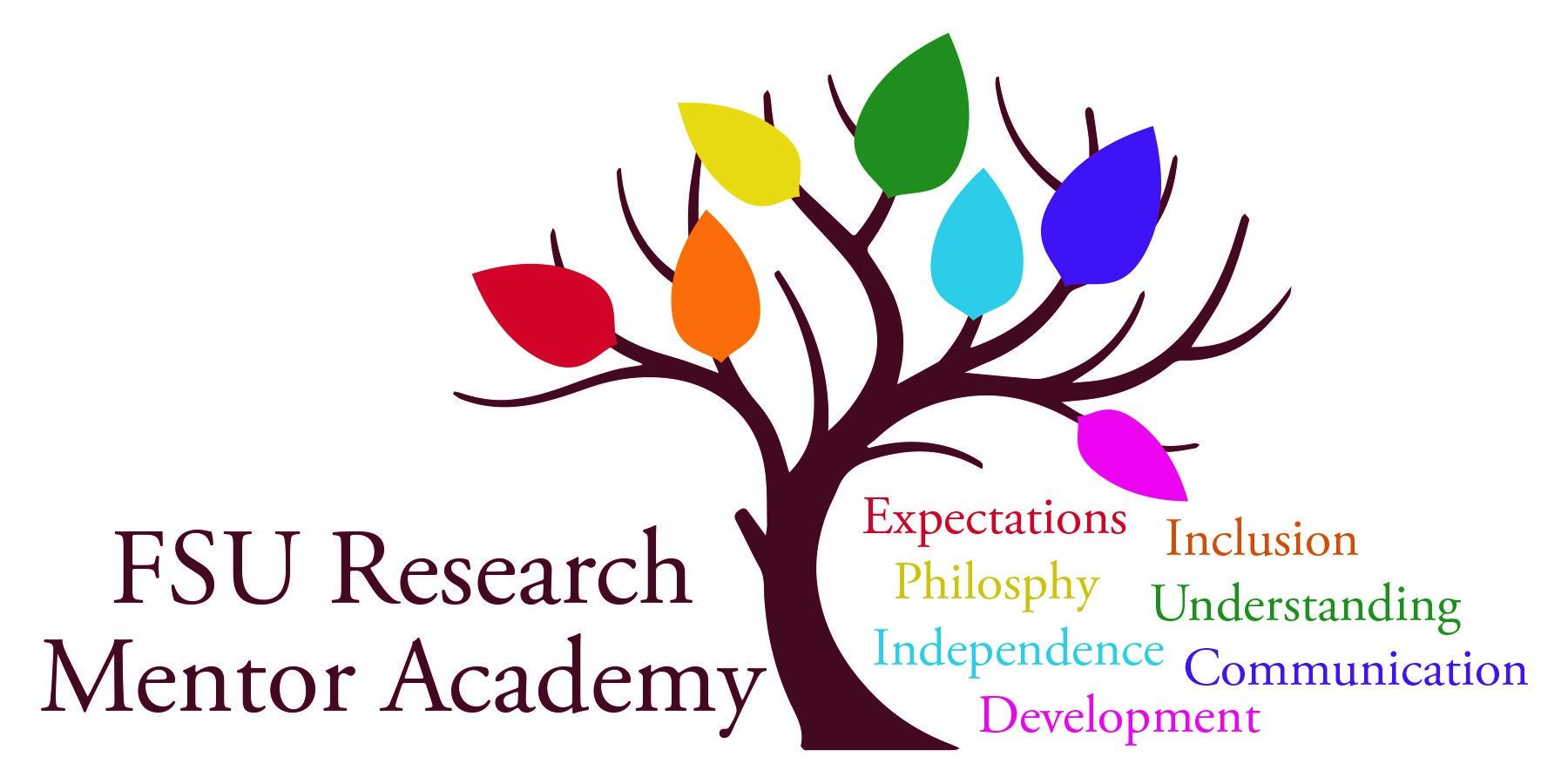 ---
"Mentorship is a professional, working alliance in which individuals work together over time to support the personal and professional growth, development, and success of the relational partners through the provision of career and psychosocial support."
-The National Academies of Sciences, Engineering, and Medicine Consensus Study Report "The Science of Effective Mentorship in STEMM"
---

What is the Research Mentor Academy?
Effective research mentoring relationships are critical to developing the next generation of researchers.  The mission of the FSU research mentor academy is to promote a culture of support for research mentoring and to provide training in optimizing mentoring relationships for mentors with their mentees at all levels of their research careers. The FSU Research Mentor Academy is conducted by the FSU Office of Research Development, led by Dr. Rachel Goff-Albritton, Assistant Director of the Office of Research Development. 
The Research Mentor Academy is provided in collaboration with the Office of Faculty Development and the FSU Clinical and Translational Science Award CTSA Program and supported by other FSU Administrators and Faculty trained to facilitate the Entering Mentoring curriculum.   
Our training is based on the research mentoring curricula, Entering Mentoring, an evidence-based curriculum from the the Center for the Improvement of Mentored Experiences in Research (CIMER), using an interactive approach that allows participants to explore an intellectual framework for research mentoring within a community of their peers. This approach provides mentors with opportunities for reflection and a forum to solve mentoring dilemmas and share successful mentorship strategies. You can read more about the development of these training materials here.
The FSU Research Mentor Academy is structured around a series of interactive learning sessions on topics relevant to successful mentor-mentee interactions. The training covers topics related to research mentoring relationships, such as:
Aligning Expectations
Addressing Equity and Inclusion
Assessing Understanding
Fostering Independence
Maintaining Effective Communication
Promoting Professional Development
Cultivating Ethical Behaviors
Promoting Mentee Research Self-Efficacy
Enhancing Work-Life Integration
Articulating Your Mentoring Philosophy and Action Plan
FSU research mentors who attends all sessions will be listed and recognized within their cohort on this page below and will receive a certificate of completion.  Your completion of this training can be listed on your CV and, if applicable, is important to be listed on training grant applications. If you are interested in learning about mentoring best practices, then please join the FSU Research Mentor Academy.
For more mentoring resources, check out our Research Mentoring Resources Homepage.
Who Should Attend?
We are currently offering this training to all FSU faculty who conduct research and creative activities and who are currently active in mentoring early career researchers, including undergraduate students, graduate students, postdocs, and junior faculty.
Faculty who serve as research mentors on training grants are encouraged to attend.
---
Registration
Spring 2023 Research Mentor Academy
Interested in attending a future FSU Research Mentor Academy?  Sign up on the Waiting List to join future sessions.
---
Details on Sessions:
Spring 2023 Session
Who: Faculty Across All Research Areas and Career Levels
When: Tuesdays, Noon - 2:30pm, Feb. 21, Feb. 28, and March 7, 2023
Where: This will be a Virtual Event (Zoom links and details will be sent to registrants)
Agenda for Sessions: 
Sessions
Discussion Topics
Day 1: Noon-2:30pm

Introduction to Research Mentor Training

Maintaining Effective Communication

Aligning Expectations

Day 2: Noon-2:30pm 

Addressing Equity and Inclusion

Assessing Understanding

Day 3: Noon-2:30pm

Fostering Independence 

Promoting Professional Development

Articulating your Mentoring Philosophy and Action Plan
Concluding remarks
---
Research Mentor Academy Cohorts
Mentors

Department/College

Bio

 

Jeffrey Harman, Spring 2020 Cohort

 

Behavioral Sciences and Social Medicine/Medicine

Jeffrey Harman, PhD, is a Professor in the Department of Behavioral Sciences & Social Medicine (BSSM) at the FSU College of Medicine. He is a health economist who conducts research on health policy and teaches applied statistics at the College of Medicine. Dr. Harman has extensive experience with mentorship. He is currently the chair of the Mentoring Committee in BSSM, has chaired or co-chaired 16 dissertation committees, served as a member on 23 additional dissertation committees, and has served as a mentor on multiple faculty members' career development awards. He currently serves as the primary mentor for seven faculty members in BSSM, and has served as a research mentor for numerous medical students.

 

Robb Tomko, Spring 2020 Cohort

 

Biomedical Sciences/Medicine

Tomko studies how cells build, maintain and utilize the proteasome in normal and disease states. His laboratory works on the scale of individual proteins up to whole cells, and integrates approaches spanning biochemistry, cell biology, genetics, proteomics, biophysics and pharmacology. Ultimately, his group aims to utilize the information gained from these basic studies of the proteasome to exploit its assembly and function for therapeutic benefit in human diseases.

 

Debra Fadool, Spring 2020 Cohort

 

Biological Science/Arts and Sciences

Debi has served as a mentor for 12 postdoctoral scholars, 17 PhD students, and 10 honor students during her twenty years at Florida State University (FSU).  She is especially proud that 100% of her trainees are currently engaged in science (industry/government/academia) or science-related jobs (scientific writing).  She has chaired and served on NIH fellowship study sections for NIMH, NIDCD, NINDS for about 15 years.  FSU has recognized her with the Graduate Mentor Award, the Nancy Marcus Professorship, and the Distinguished Research Professor Award.  Currently she directs the Chemosensory Training Grant Program for FSU (NIH, NIDCD) and serves as Associate Dean and Director of the Office of Postdoctoral Affairs.  As such, she enjoys mentoring junior scientists and trainees in both her specialty field and broadly across the campus.

 

Jeannine Turner, Spring 2020 Cohort

 

Edu Psychology & Learning Systems/Education

Dr. Jeannine E. Turner is an Associate Professor in the Department of Educational Psychology and Learning Systems in the College of Education at Florida State University. She joined the faculty in Fall 2004. Her research focuses on issues of motivation, emotions, instruction, and learning. Her current research interests include motivation, learning and "transfer of knowledge" of pre-service teachers; motivation and emotions of teachers with respect to professional development and implementation; and engineering students' motivation and knowledge transfer.

 

Heather Flynn, Spring 2020 Cohort

 

Behavioral Sci and Social Med/Medicine

Heather A. Flynn, Ph.D. is a clinical psychologist, Professor and Interim Chair at the Florida State University College of Medicine in the Department of Behavioral Sciences and Social Medicine. Dr. Flynn's research is focused on improved identification and treatment of depression in women, especially around the time of childbearing. Her studies are specifically aimed at developing and testing psychotherapeutic treatments for depression around the time of pregnancy, and on examining the impact of depression remission on obstetrical and infant outcomes.

 

Lisa Eckel, Spring 2020 Cohort

 

Psychology/Arts and Sciences

Dr. Lisa Eckel is a Professor in the Department of Psychology and the Director of the Interdisciplinary Program in Neuroscience.

Currently, there are two ongoing research programs in my laboratory. The first project investigates the mechanism underlying estradiol's ability to control food intake and regulate body weight in female rodents. To study this problem, we use an integrated approach involving behavioral, physiological, pharmacological, and molecular techniques. The interaction between estrogen and neuropeptides is of particular interest. A second project investigates the changes in neuropeptide secretion associated with activity-based anorexia, an animal model of anorexia nervosa. We are also interested in identifying behavioral patterns in rats that might increase the risk of developing activity-based anorexia.

 

Pamela Keel, Spring 2020 Cohort

 

Psychology/Arts and Sciences

Dr. Pamela Keel is a Distinguished Research Professor in the Department of Psychology.

Current projects include an examination of psychological and biological factors that may distinguish individuals with purging disorder (characterized by recurrent purging following normal or small amounts of food in individuals who are not underweight) from individuals with bulimia nervosa and individuals without eating disorders. We are also developing papers from a 4th assessment wave of a large epidemiological and longitudinal study of bulimic syndromes in which we have sampled college cohorts in 1982, 1992, 2002, and now 2012 with successive waves of 10-, 20-, and now 30-year follow-up assessments of established cohorts. Finally, we have a large grant examining the biological consequences of weight suppression and how these may explain the association between weight suppression and illness maintenance in bulimic syndromes.

 

Justin La Favor, Spring 2020 Cohort

 

Nutrition Food & Exercise Sci/Human Sciences

Dr. Justin La Favor is an Assistant Professor in the Department of Nutrition, Food, and Exercise Sciences.

I am interested in elucidating molecular mechanisms that regulate neurovascular dysfunction resultant from obesity, nutritional factors, and sedentary lifestyle. Therein, I am particularly focused on how these factors promote erectile dysfunction, which is emerging as a potent clinical indicator of future cardiovascular disease. We primarily utilize feeding interventions in rats and mice, surgical approaches to measure nerve-stimulated blood flow induction, microdialysis to monitor blood flow and free radical production, myography to measure in vitro tissue and vascular reactivity, and molecular biology techniques.

 

Nora Underwood, Spring 2020 Cohort

 

Biological Science/Arts and Sciences

Dr. Nora Underwood is a Professor in the Department of Biological Sciences.

I am a population biologist interested in the ecology and evolution of plant-insect interactions. My primary focus is on how genotypic and phenotypic variation among individuals affects the long-term spatial and temporal dynamics of populations. I work on interactions between plants and their insect herbivores because plants and insects are amenable to experimentation and play important roles in both natural and agricultural communities. Because the questions that I ask span levels of organization from characteristics of individuals to populations, and encompass both long and short time frames, I use a combination of greenhouse and field experiments with mathematical modeling in my research.

 

Svenja Wolf, Spring 2021 Cohort

 

Edu Psychology & Learning Sys/Education

Dr. Svenja Wolf is an Assistant Professor in the College of Education. 

My current research centers on the intersection of group dynamics and emotions in sport and other performance contexts such as performing arts and high-pressure work-settings. Across all of my research, I aim to work from strong theoretical frameworks, employ a variety of designs (e.g., multilevel field studies, field, lab, and online experiments) and methods (e.g., questionnaires, GPS tracking, video observations, interviews), and ensure high ecological validity and relevance. I also strongly believe in quality over quantity and a collaborative approach to research.

 

Xian Fan, Spring 2021 Cohort

 

Computer Science/Arts and Sciences

Dr. Xian Fan is an Assistant Professor in the Department of Computer Science.

My research focuses on developing machine learning tools to detect structural variations in DNA using (the combination of) a variety of sequencing technologies, including Illumina, PacBio, Optical Maps and 10x etc, and to analyze single cell sequencing and deconvolve cancer cell heterogeneity. I developed several structural variation detection/characterization tools including HySA, OMIndel and BreakDown. I also participated in developing genomic tools such as BreakDancer, TIGRA-SV, CREST, novoBreak, BreakpointSurveyor and GMT Modeling. During 2015-2018, I was a member of Human Genome Structural Variation Consortium (HGSVC), where I took the leadership in developing and applying machine learning tools to newly sequenced data.

 

Bridget DePrince, Spring 2021 Cohort

 

Chemistry and Biochemistry/Arts and Sciences

Dr. Bridget DePrince is an Instructor for Chemistry in the Department of Chemistry and Biochemistry. 

As Teaching Faculty, I regularly teach courses that span our entire undergraduate curriculum — from the introductory 1000-level to the 4000-level.  As such, I am in a position to build meaningful relationships with students throughout their entire tenure at FSU.   I informally mentor many of our Chemistry and Biochemistry majors hoping to become career research scientists, advising them on a range of topics — from choosing a research group here at FSU to deciding what graduate school or program best fits their goals.  I also participated as a research mentor for our NSF REU program, where my role was very similar.  

 

Michael Shatuk, Spring 2021 Cohort

 

Chemistry and Biochemistry/Arts and Sciences

Dr. Michael Shatruk is the Cottrell Family Professor in the Department of Chemistry and Biochemistry.

Research in our group focuses on inorganic and organic materials chemistry. We rely on the synthesis and crystal structure determination methods, complemented by advanced optical, magnetic, and theoretical techniques, to discover new magnets, catalysts, and stimuli-responsive materials. Our main research directions are (1) molecular magnetism, photomagnetism, and spintronics; (2) magnetism of intermetallic compounds and 2-D materials; (3) heterogeneous catalysis by intermetallics and alloys. 

 

 

Eugene DePrince, III, Spring 2021 Cohort

 

Chemistry and Biochemistry/Arts and Sciences

Dr. Eugene De Prince is an Associate Professor in the Department of Chemistry and Biochemistry.

High-quality electronic structure software is an essential component of modern chemical research, and open-source software is particularly valuable. Our primary research efforts are dedicated to the development of open-source tools for modeling the electronic structure of complex molecules and materials. In particular, we develop computationally affordable methods for the accurate description of strongly correlated electrons and explicitly time-dependent light-matter interactions.

 

Xiaonan Zhang, Spring 2021 Cohort

 

Computer Science/Arts and Sciences

Dr. Xiaonan Zhang is an Assistant Professor in the Department of Computer Science.

My current research interests include wireless networking and systems, Internet of Things (IoT), and wireless security. I would like to identify new problems and solve them by considering both wireless techniques and machine learning approaches. I received my Ph.D. degree in Electrical and Computer Engineering at Clemson University in 2020. Previously, I received my M.S. degree in Electrical and Computer Engineering from Binghamton University in 2017. I was the research assistant in Beijing University of Posts and Telecommunications from 2012 to 2015.

 

Andy Wang, Spring 2021 Cohort

 

Computer Science/Arts and Sciences

Andy Wang received his Ph.D. and M.S. in computer science from UCLA in 2003 and 1998, and his B.S. from UC Berkeley in 1995. He joined the Department of Computer Science at Florida State University as an Assistant Professor in 2003. His research interests include file systems, optimistic peer replication, performance evaluation, ad hoc network routing, operating systems, and distributed systems.

 

Sonia Haiduc, Spring 2021 Cohort

 

Computer Science/Arts and Sciences

Dr. Haiduc's research interests are in software engineering, including software maintenance and evolution, program comprehension, source code search, and applications of information retrieval and natural language processing for solving software engineering tasks. Her work has been published in several highly selective software engineering venues, including the IEEE/ACM International Conference on Software Engineering. She serves on the Program Committee of several international conferences on software evolution and program comprehension and is a reviewer for journals such as the IEEE Transactions in Software Engineering, Journal of Software: Evolution and Process, and Automated Software Engineering.

 

Kenneth Hanson, Spring 2021 Cohort

 

Chemistry and Biochemistry/Arts and Sciences

Kenneth Hanson received a B.S. in Chemistry from Saint Cloud State University (2005), his Ph.D. from the University of Southern California (2010), followed by an appointment as a postdoctoral scholar at the University of North Carolina at Chapel Hill (2010–2013). His independent research career began in 2013 at Florida State University as a member of the Department of Chemistry & Biochemistry and is affiliated with the Materials Science & Engineering program. His current research interests include the design, synthesis, and characterization of photoactive molecules/materials with particular emphasis on manipulating energy and electron-transfer dynamics for application in solar energy conversion and catalysis. 

 

 

Irene Zanini-Cordi, Summer 2021 Cohort

 

Modern Languages and Linguistics /Arts and Sciences

Professor Zanini-Cordi (Ph.D., Italian Studies, University of California, Berkeley) specializes in Renaissance, 18th- and 19th- century and contemporary Italian literature, with emphasis on Critical Theory and women's writing. Professor Zanini-Cordi's first book, Donne sciolte, explores the figure of the woman abandoned by her lover in Italian literature. Her current research interest is on Social Network Theory, Italian salons and salonnières, and on women's writing in 18th- and 19th- century Italy. She is completing a book manuscript focusing on the writings of the women who animated Italian salons/salotti di cultura from just before the French Revolution to the unification of Italy. Professor Zanini-Cordi is the recipient of several grants and fellowships among which, most recently, the National Endowment for the Humanities Fellowship (NEH) (2011-2012), and the National Endowment for the Humanities Summer Seminar at the American Academy in Rome (2011).

 

Gilad Rabinovitch, Summer 2021 Cohort

 

Music Theory and Composition/Music

Assistant Professor of Music Theory Gilad Rabinovitch completed Ph.D. degrees in Composition (2013) and Music Theory (2015) at the Eastman School of Music, with prior training at the Hebrew University of Jerusalem and the Jerusalem Academy of Music. His research interests include eighteenth-century phrase schemata and the reimagining of historical improvisation, bridging past and present approaches to music-making and teaching. His articles and reviews have appeared (or are forthcoming) in Music Theory Spectrum, Music Theory Online, Journal of Music Theory, Music Theory & Analysis, Theoria, Indiana Theory Review, Journal of Music Theory Pedagogy, Engaging Students, Empirical Musicology Review, and Eighteenth-Century Music, as well as in an edited volume on keyboard skills (Olms). He has presented at conferences including several annual meetings of the Society for Music Theory and the 9th European Music Analysis Conference (Strasbourg, 2017). He has also given invited lectures and workshops at institutions including Cornell University, the University of Michigan, and the University of Texas at Austin.

 

Tanya Peres, Summer 2021 Cohort

 

Anthropology/Arts and Sciences

Dr. Tanya M. Peres is an Associate Professor of Anthropology, with a specialization in Zooarchaeology. Dr. Peres earned a PhD in Anthropology from the University of Florida (2001) and an MA (1997) and BA (1995) from the Florida State University, both in Anthropology. She is a Registered Professional Archaeologist since 2001 and has nearly two decades of field and lab experience on academic and applied prehistoric and historic archaeological projects across the Southeastern United States, Panama, Mexico, and Scotland. Dr. Peres is interested in the relationships between humans and their environments, and humans and animals - especially in terms of subsistence and how animals were incorporated into the native worldview. She is the director of the Middle Cumberland Archaeology Project and the Rutherford County Archaeology Research Program.

 

John Schwenkler, Summer 2021 Cohort

 

Philosophy/Arts and Sciences 

Dr. John Schwenkler is a Professor in the Department of Philosophy at Florida State University. His first monograph, Anscombe's Intention: A Guide, was published in 2019 by Oxford University Press. ​With Enoch Lambert he is the co-editor of Becoming Someone New: Essays on Transformative Experience, Choice, and Change, a collection of papers by philosophers and social scientists that was published in 2020 by Oxford University Press. And with Samuel Guttenplan, Jennifer Hornsby, and Christopher Janaway he is an author of the second edition of ​Reading Philosophy: Selected Texts With a Method for Beginners, an introductory textbook published in 2020 by Wiley-Blackwell. His  research interests are centered around the philosophy of mind and action, but also touch on questions in ethics, epistemology, the philosophy of language, and more.

 

 

Michael Creswell, Summer 2021 Cohort

 

History/Arts and Sciences

Michael Creswell, Associate Professor of History, a specialist on international politics, the Cold War, and military affairs, has published "Between the Bear and the Phoenix: The United States and the European Defense Community," in L'échec de la CED: leçons pour demain?, ed. Michel Dumoulin (Peter Lang, 2000) and "How France Secured an Anglo-American Continental Commitment, 1945-54," in Cold War History. With Marc Trachtenberg, Creswell is the author of "France and the German Question, 1945-1955," which appeared in the Journal of Cold War Studies. He is the author of A Question of Balance: How France and the United States Created Cold War Europe (Harvard, 2006). His next book will examine how France rebuilt its army after the Second World War. His research interests include: Contemporary Europe, International Politics, Cold War History, Military Affairs

 

Kristin Dowell, Summer 2021 Cohort

 

Art History/Fine Arts

Dr. Kristin Dowell, Director of Museum and Cultural Heritage Studies, Associate Professor, specializes in art of Native North America with an emphasis on Indigenous cinema and contemporary art. She is a settler scholar deeply committed to a decolonial research and teaching practice that centers and amplifies the work of the Indigenous filmmakers and artists with whom she has collaborated with for close to 20 years. Her single-author book, Sovereign Screens: Aboriginal Media on the Canadian West Coast (2013), is the first ethnographic monograph of the vibrant and dynamic Indigenous media world in Vancouver. Her research investigates the active processes through which Indigenous filmmakers and artists visualize Indigenous stories, cultural knowledge, and aesthetic traditions. She focuses on their use of experimental forms of art and media in their efforts to express and enact visual sovereignty through their on-screen aesthetics and off-screen production practices.

 

Alisha Gaines, Summer 2021 Cohort

 

English/Arts and Sciences

Alisha Gaines is the Timothy Gannon Associate Professor of English with a PhD in English and a certificate in African and African American Studies from Duke University. From 2009-2011 she held a Carter G. Woodson postdoctoral fellowship at the University of Virginia. Since joining the faculty in 2011, Dr. Gaines was named a 2014-2015 McKnight Junior Faculty Development Fellow. In 2014, FSU's Spiritual Life Project honored her with a Transformation Through Teaching Award, and she won a university-wide Undergraduate Teaching Award in 2017. Her first manuscript, Black for a Day: Fantasies of Race and Empathy, was published with UNC Press (Spring 2017). She is currently researching her second manuscript on empathy and transatlantic, historical reenactments of, and public histories about, slavery and segregation.

 

 

Kellen Hoxworth, Summer 2021 Cohort

 

School of Theatre/Fine Arts

Kellen Hoxworth is Assistant Professor in the School of Theatre at Florida State University. His research focuses on the formations of race and coloniality, particularly in the transhistorical performance networks of the global south. His current book project, Transoceanic Blackface: Empire, Race, Performance (under advance contract with Northwestern University Press), traces the formation of blackface minstrel performance networks throughout the British Empire and the global Anglophone world. His writing has been published in Modern Drama, Theatre Survey, Contemporary Theatre Review, and Performance Research. He also co-edited and co-curated the PSi19 performance blog, from which several posts were selected for publication in Performance Research 19.3 (2014). In 2018, his essay "The Many Racial Effigies of Sara Baartman" was selected by the American Society for Theatre Research as the recipient of the Errol Hill Award for outstanding scholarship in African American theatre, drama, and/or performance studies. As an artist, Kellen is a director, dramaturg, and performer. He approaches performance as a charged site at the intersections of affect, representation, corporeality, and material practice.

Jordan Montgomery, Fall 2021 Cohort

Immokalee Health Education Site/Medicine

Dr. Jordan Montgomery completed her bachelors of science degree in Family Studies and Human Development at the University of Arizona. She completed her master of arts in Marriage and Family Therapy at Appalachian State University and her Ph.D. in Marriage and Family Therapy at Florida State University. In 2019, she was awarded the Dissertation Award from the American Association of Marriage and Family Therapy Research Foundation for her dissertation study, Culturally Competent Parenting: A Test of Web-Based Training for Transracial Foster and Adoptive Parents. She did her postdoc fellowship at FSU College of Medicine's Center for Child Stress and Health in Immokalee, Florida. Dr. Montgomery is currently Research Faculty at the Center for Child Stress and Health, helping to assess adverse childhood experiences and health outcomes in migrant farm working families. She is also a licensed marriage and family therapist in the state of Florida and provides part-time trauma response counseling at the center to patients in need in the community.

Bret Staudt Willet, Fall 2021 Cohort

Instructional Systems & Learning Technologies/Education

Dr. Bret Staudt Willet (he/him; last name: Staudt Willet) is an Assistant Professor of Instructional Systems & Learning Technologies at Florida State University. Dr. Staudt Willet's research investigates networked learning in online communities. He explores this area in four ways. First, he studies informal learning environments such as those supported by social media platforms like Twitter and Reddit. Second, he examines the identity-agency needed to navigate these environments, especially during disruptions and transitions. Third, he writes about and seeks greater understanding of technoethical issues raised by seeking professional learning in social networks. Fourth, and finally, he is interested in data science applications for educational research, such as the principles of open science, data mining of digital traces, social network analysis, and learning analytics.

 

Terry Londy, Fall 2021 Cohort

Interior Architecture and Design/ Fine Arts

Terry Londy is an Assistant Professor in the Department of Interior Architecture and Design. A Detroit maker with commercial experience in Graphic & Interior Design, Terry specializes in the role of Brand in the built environment. In Chicago, his skillset began to evolve through the many facets of Environmental Graphic Design, signage and wayfinding, and ultimately finding his passion with large Branding projects. Terry posits that the key to great design is understanding that the Brand is much more than a logo, but is more of a living, breathing entity. It becomes an icon that drives consumers to buy & creates die hard loyalty. The design challenge is creating the intersection with the user and the Brand, storytelling, developing the experience, and ultimately building the connection they make to the space. Recently leaving practice for academia, he now seeks to develop and invest in students. His approach to the classroom setting is like a commercial design studio, infusing the value of team building and interaction, as well as demonstrating the value of fostering client relationships and how to build them.

Ene Ikpebe, Fall 2021 Cohort

SOCIAL SCIENCES & PUBLIC POLICY

Professor Ene Ikpebe conducts interdisciplinary research across the fields of public management, public administration, and public policy. She is most interested in questions concerning women's human capital development as advanced by education or hindered by issues such as early marriage. Her research also includes studies of African women in the US where she focuses on questions of labor market assimilation and wage discrimination in the US (published at American Economist and Atlantic Economic Journal). In the fall of 2021, Professor Ikpebe is teaching PAD 5227: Managing Financial Resources. A Nigerian native, she comes to Tallahassee by way of Illinois Wesleyan University where she received her bachelor's in economics and American University in DC where she received her MPP and PhD in public administration.

 

Julie Brancale, Fall 2021 Cohort

Criminology and Criminal Justice

Julie Brancale is an Assistant Professor and Co-Director, Center for Criminology and Public Policy Research. Her research focuses upon identifying and evaluating methods to more effectively incorporate research into criminal and juvenile justice policy and practice. Additionally, she studies financial exploitation and victimization of older adults and the role of education and school factors on delinquency.

Kimberly M. Davidson, Fall 2021 Cohort

Criminology and Criminal Justice

Kimberly M. Davidson is an Assistant Professor in Criminology and Criminal Justice. She received her Ph.D. in Criminology from The Pennsylvania State University. Her research focuses on corrections, programming and rehabilitation, community reentry, substance use.

Alisa Hauser, Fall 2021 Cohort

Music Theatre/ Music

Alisa Hauser is an Assistant Professor in Music Theatre.  She holds a BFA in Musical Theatre from Cincinnati College-Conservatory of Music and a Masters in Voice Pedagogy from Westminster Choir College/Rider University. Teaching experience includes positions at Michigan State University and Westfield State University as well as being on the voice faculty of the Brattleboro Music Center and Music Theatre of Connecticut. She holds a Level 3 certificate in Somatic Voicework – The LoVetri Method™ and teaches a functional approach to voice training specializing in contemporary commercial music. As a performer, Alisa appeared on Broadway in the original cast of Thoroughly Modern Millie (Alice), Grease! (Frenchy), and in the original cast of Disney's Beauty and The Beast (Silly Girl). Some of her favorite regional and stock roles include Peggy Sawyer in 42nd Street at Theatre-By-The-Sea, Judy in A Chorus Line at Stages St. Louis, and Her/Barb in Romance/Romance at the Fulton Opera House. Other theatre credits include shows at Paper Mill Playhouse, Seven Angels Theatre, Music Theatre Wichita, and the Goodspeed Opera House. In 2014 Alisa was nominated for a national primetime Emmy award for Outstanding Music and Lyrics for the song "No Trouble" from A Christmas Carol – The Concert (PBS).




Karina Donald, Fall 2021 Cohort

Art Therapy/ Fine Arts

Karina Donald is art therapist and marriage and family therapist who is passionate about integrating culturally-sensitive mental health interventions among underserved families. Drawing from her experiences as an educator and clinician in her home country Grenada and English-speaking Caribbean countries, her current research focuses on ascertaining culturally-relevant interventions for families who are highly stressed and how art and family therapists can tap into existing resources to support those families. As an art therapist, she specializes in trauma, anxiety, and depression, among children, adolescents, and families. Her clinical experience spans underserved populations in the US and Caribbean through teletherapy and in person.

Jacob Eikenberry, Fall 2021 Cohort

Institute of Justice Research and Development/ Social Work

Jacob Eikenberry is a Research Faculty member focused on Behavioral Health and Criminal Justice for the Institute of Justice Research and Development. In this role, he oversees all aspects of implementation and data collection for the many IJRD research projects being conducted in states across the nation. He is focused on creating sustainable alternatives to incarceration and improving the systems that intersect with currently and formerly incarcerated individuals, their families, and their communities. 

His research interests include exploring the intersection of trauma, mental health, and substance misuse for justice-involved individuals and examining how peer mentorship and peer support may facilitate healthy transitions for individuals exiting the criminal justice system.

 

Emily Stewart, Fall 2021 Cohort

Earth, Ocean, & Atmospheric Science/ Arts & Sciences 

Emily Stewart is an Assistant Professor of Geology in the Department of Earth, Ocean, & Atmospheric Science.  She uses the rock record to investigate processes that occurred deep in Earth's crust and throughout the billions of years of our planet's history. She is particularly interested in metamorphic reactions that release or sequester CO2 and other volatiles, interacting with the global carbon cycle, and helping to maintain Earth's long term habitability.  Her work is rooted in direct observation of the rock record including field work, petrography, and geochemical characterization. Rather than focusing on a particular analytical method, she employs different techniques as needed, including stable/radiogenic isotope mass spectrometry, X-ray fluorescence, microprobe analysis, and more. Most of her work also involves thermodynamic modeling (e.g., pseudosections).

​

Maria Ryan, Fall 2021 Cohort

Musicology/ Music

Assistant Professor of Musicology Maria Ryan researches and writes about how African and African-descended people in the Americas theorized, performed, and listened to music with European origins in the eighteenth and nineteenth centuries. She holds the B.A. degree from the University of Nottingham, the M.Mus. degree from King's College London, and the Ph.D. in musicology with a certificate in Africana studies from the University of Pennsylvania. Dr. Ryan's current project investigates the relationship between racialization and music in the British colonial Caribbean, exploring the many ways that African-descended musicians and listeners engaged with music with European origins. Sometimes this engagement functioned as a way to assert their intellectual and aesthetic capabilities, while simultaneously learning, theorizing, and subverting the music of those who enslaved and subjugated them. Early work from this project can be seen in the article "'The influence of Melody upon man in the wild state of nature": Enslaved Parishioners, Anglican Violence, and Racialized Listening in a Jamaica Parish" in the Journal of the Society for American Music (forthcoming, Summer 2021).

Benjamin W. Fisher, Fall 2021 Cohort

Criminology and Criminal Justice

Benjamin W. Fisher received his Ph.D. in Community Research and Action from Vanderbilt University. His work focuses on school criminalization, which refers to the application of criminal justice system technologies, strategies, and logics within school settings. Within this domain, he studies topics like police in schools, punishment of students, and the use of school security measures. Dr. Fisher foregrounds equity and social justice in his work, particularly issues of racial justice.

Nathan (David) Pifer,

Fall 2021 Cohort

Sports Management/ Education

Dr. Nathan (David) Pifer is an Assistant Professor of Sports Management.  He researches sports analytics, the use of data and statistical methods to help sport organizations and individuals make better decisions. He is primarily concerned with variables related to on-field/on-court team, player, and coach performance, and how analytics can help these parties enhance their decision-making by overcoming errant traditions, biases, and heuristics. Dr. Pifer's work has been published in the Journal of Sports Economics, the Journal of Sports Analytics, the Journal of Sport Management, and other notable journals and books. He has also developed and taught sports analytics classes at the undergraduate and graduate levels.

Eugenia Millender, Spring 2022 Cohort

Nursing

Dr. Eugenia Millender is an Associate Professor at the FSU College of Nursing and the college's Center for Indigenous Nursing Research for Health Equity. She is also the graduate coordinator for the psychiatric mental health nurse practitioner certificate program. As an indigenous Afro-Caribbean Latina nurse scientist, Dr. Millender's career has been dedicated to increasing mental health equity for vulnerable and undeserved populations. She explores ways to reduce mental health disparities among indigenous and vulnerable populations that is the result of stress and trauma. She does so by working with community-based organizations and employing her expertise in mood disorders, stress, trauma and substance abuse and how these are expressed through gene-environment interaction.

Sara Shields, Spring 2022 Cohort

Art Education/ Fine Arts

Sara Scott Shields, Ph.D. is an Associate Professor of Art Education at The Florida State University. She currently serves as Chair of the Art Education Department. She received her BFA in Ceramics and Art Education and her MaED in Art Education from East Carolina University, later receiving her PhD in Art Education from The University of Georgia after teaching high school art for six years. While at UGA she received an outstanding teaching award and achieved additional certification in interdisciplinary qualitative studies. Dr. Shields has taught at the secondary and college level for 14 years and recently received the Southeastern Higher Educator of the Year award from the National Art Education Association and Higher Educator of the Year award from the Florida Art Education Association. She has presented and published at the state, national, and international level. Her research and curriculum development is focused on the integration of visual journaling, contemporary art, community and personal histories, and how these might work together to create unique opportunities for art educators and students to engage in civically minded and socially just educative encounters.

 

Vanessa Dennen, Spring 2022 Cohort

Educational Psychology & Learning Systems/ Education

Dr. Vanessa Dennen is a Professor of Instructional Systems & Learning Technologies in the Department of Educational Psychology & Learning Systems. She joined the faculty at FSU in 2003. Vanessa's research investigates the cognitive, motivational, and social elements of computer-mediated communication. Specifically, she concentrates on three major issues: (1) learner engagement in online discussion activities; (2) identity development, knowledge management, and knowledge brokering within online networks and communities of practice; and (3) ethical issues related to computer-mediated learning. Her research is situated in both formal and informal learning environments and focuses on communication technologies ranging from discussion forums to social media to mobile technologies. She has authored more than 50 journal articles and book chapters.

Sara Hart, Spring 2022 Cohort

Psychology/ Arts and Sciences

Dr. Sara Hart is a Professor of Psychology, Developmental Psychology Area Director, and the W. Russell and Eugenia Morcom Chair.  Her research explores the sources of individual differences in cognitive abilities. I focus on examining how genetics and the environment interplay to influence development of reading and math skills, as well as general cognitive processing factors. Part of this work is identifying what specific aspects of the environment, such as the home literacy environment, are important to cognitive development. I am also interested in incorporating genetic and family environment information in the classroom.

Jenny Root, Spring 2022 Cohort

School of Teacher Education/ Education

Dr. Jenny Root is an Associate Professor of Special Education in the School of Teacher Education at Florida State University. She teaches courses on differentiating instruction, access to the general curriculum, and transition for students with disabilities. Dr. Root is a board-certified behavior analyst (BCBA) and uses applied behavior analysis as a theoretical framework in designing and evaluating interventions and practices.  Dr. Root's research focuses on instructional methods to promote academic learning for students with autism and intellectual disability. She is currently working with undergraduate, masters, and doctoral students in the General Curriculum Access lab to develop and evaluate strategies for teaching meaningful mathematical skills.

Tamara Bertrand Jones, Spring 2022 Cohort

Educational Leadership and Policy Studies/ Education

Dr. Tamara Bertrand Jones currently serves as an Associate Professor of Higher Education in the Department of Educational Leadership and Policy Studies at Florida State University. Her research examines the sociocultural influences on socialization during graduate education and the professional experiences of underrepresented populations, particularly Black women, in academia. Her previous work as an administrator and program evaluator also influence her other research interests in culturally responsive assessment and evaluation. She is a founder and past president of Sisters of the Academy Institute, an international organization that promotes collaborative scholarship and networking among Black women in the academy. She collaborated with fellow scholars to write Pathways to Higher Education for African American Women and Cultivating Leader Identity and Capacity in Students from Diverse Backgrounds. She has also authored, solely and collaboratively referred journal articles. She was awarded a McKnight Junior Faculty Fellowship.

Greg Hajcak, Spring 2022 Cohort

Psychology/ Arts and Sciences

Dr. Greg Hajcak is a Professor of Psychology and Director of the FSU MRI Research Facility. His research utilizes a range of psychophysiological and neurobiological measures (i.e., event-related brain potentials or ERPs, functional magnetic resonance imagining or fMRI, startle reflex, pupillometry, eye tracking, heart rate, and skin conductance) to understand cognition, emotion, and psychopathology. As a clinical psychophysiologist, Dr. Hajcak leverages these neurobiological and psychophysiological measures to better understand individual differences in anxiety and depression in terms of abnormal affective-cognitive processes. The major thrust of his current research program is on prediction and modification: To what degree can neuroscience and psychophysiology predict changes in symptoms over time? Can neural measures of risk be modified? Does modifying these measures matter? His research team's work focuses on the intersection between neuroscience and psychopathology – how the brain can be used to study individual differences.

Angelina "Gina" Sutin, Spring 2022 Cohort

Behavioral Sciences and Social Medicine/ Medicine 

Dr. Angelia Sutin is a Professor in the College of Medicine.  Using the Five-Factor Model of personality as an organizing framework, her research addresses how personality traits are associated with physical and mental health across adulthood and how personality shapes the psychological understanding of personally-meaningful experiences. Broadly, her research objectives are (1) to identify links between personality and inflammatory, cardiovascular, metabolic, and other markers of physical health, (2) to identify how personality traits relate to mental health, life events, and autobiographical memory, and (3) to identify the processes through which traits are associated with these outcomes across the adult lifespan. Using correlational, longitudinal, and experimental methodologies, her research takes a comprehensive approach to these objectives by addressing the physiological, behavioral, and social mechanisms that link personality traits and other psychological processes to morbidity and mortality.

Antonio Terraccino, Spring 2022 Cohort

 Geriatrics/ Medicine

Dr. Antonio Terraccino is a Professor in the Department of Geriatrics in the College of Medicine. Before joining the Department of Geriatrics, Dr. Terracciano was a staff scientist at the National Institute on Aging, NIH. His research focuses on how psychological traits and genetic factors contribute to physical and mental health across the lifespan. Dr. Terracciano uses longitudinal and cross-cultural methodologies to examine changes in traits with age, from adolescence to older adulthood. Dr. Terracciano has also led or participated in large collaborative genome-wide association studies to identify common genetic variants associated with personality traits, depression, and cigarette smoking. His research aims to individuate factors that contribute to health and longevity, by reducing health risk behaviors and promoting resilience against diseases of aging, such as Alzheimer's disease.

Melissa Radey, Spring 2022 Cohort

Child Welfare/ Social Work 

 Dr. Melissa Radey is the Agnes Flaherty Stoops Professor in Child Welfare in the College of Social Work. In her research, Radey seeks to develop strategies to promote the survival and wellbeing of low-income families in disadvantaged environments. Most recently, she examined the economic, social and health impacts of the coronavirus pandemic on single-mother families, noting severe disruption of support and resources during the pandemic. Her work also considers the demands and wellbeing of frontline workers who serve low-income families. In this area, she is currently examining violence perpetrated by clients. Early findings suggest that the context surrounding violent incidents (i.e., level of spontaneity, personal attack, and agency responsiveness) contribute to worker well-being and retention. Radey is a faculty affiliate of the Florida Institute for Child Welfare, housed at the College of Social Work. Her work with the institute has targeted improving the delivery of support services to better promote child, family, and provider outcomes.

Hanwei Gao, Spring 2022 Cohort

 Physics/ Arts and Sciences

Dr. Gao is an Associate Professor in the Department of Physics.  He received his Bachelor's Degree in Physics from University of Science and Technology of China in 2004 and his Doctorate Degree in Materials Science from Northwestern University in 2009. Since 2010, he worked at Lawrence Berkeley National Laboratory and University of California-Berkeley as a Postdoctoral Researcher. Dr. Gao joined the Physics Faculty of FSU in 2013. Dr. Gao's research encompasses physics and chemistry of solid-state nanomaterials with photonic and optoelectronic functions. His current projects investigate plasmonic and electronic properties of hybrid metal-semiconductor nanostructures for improved solid-state light emitting and solar energy harvesting applications.

Jeannine Murray-Román, Summer 2022 Cohort

Modern Languages and Linguistics/ Arts and Sciences

Jeannine Murray-Román (PhD Comparative Literature, UCLA) is Assistant Professor of French and Spanish specializing in comparative Caribbean literatures and cultures. Her work is grounded in postcolonial, transnational, and performance studies and her research interest in experimental writing includes digital humanities as well as the interface of oral and performance practices and writing in the regions of the archipelagos in the Pacific and Indian Oceans. Her work has appeared in Small Axe, the International Journal of Francophone Studies, and The French Review. Her current research focuses on reparations movements and disaster writing.

 

Aimée Boutin, Summer 2022 Cohort

Modern Languages and Linguistics/ Arts and Sciences

Professor of French, Aimée Boutin received her Ph.D. from Cornell University and her BA from Carleton University in Ottawa, Canada. She specializes in 19th-century French poetry, women writers, cultural history, gender studies, art history, soundscapes and the city in literature. Dr. Boutin has a long-standing interest in voice and sonic representations. Her first book examined how the mother's voice was imagined differently by male and female French Romantic poets. Her research continues to explore representations of women's voices in society; the topic was the subject of the Women in French 2018 conference on "Le bruit des femmes." Her book, City of Noise: Sound and Nineteenth-Century Paris focuses on the flâneur, the senses, and city noise in nineteenth-century Paris. Her current research grows out of her work on gender and walking in the city and analyzes how the railway expanded freedom of movement while imposing and exposing gendered norms on female travelers. Dr. Boutin has served as Associate Chair (2004-2008) and French Program director (2008-2019).

 

Tenley Bick, Summer 2022 Cohort

Art History/ Arts and Sciences

Dr. Tenley Bick (she/her) is an art historian of global contemporary art, with special interests in post-WWII and contemporary European (especially Italian) and African art (continental and diasporic), with a focus on social art history and cultural geopolitics. Her research and teaching are dedicated to the investigation of modern and contemporary art history as a global field, and to the examination of art and social context on a local and global level. Topics of research and teaching include artistic internationalism and its cultural politics after World War II, postcolonial modernisms, diasporic cinemas, historiography and global politics, and artistic labor and process, among others. Her work on Italian art focuses on Arte Povera, internationalism, and politics in the 1960s and 1970s, as well as contemporary art and postcoloniality.

 

Caleb Mitchell, Summer 2022 Cohort

School of Dance, Fine Arts

Mr. Mitchell has been an Assistant Professor of Dance at Florida State University School of Dance since 2018.  Before joining FSU, Mr. Mitchell received an MFA in dance, became an Assistant Professor of Dance faculty at Belhaven University in Jackson, Mississippi where he received tenure (2009-2016), and served as an Associate Professor of Dance at Santa Monica College Dance Department (Santa Monica, California) (2016-2018). Mr. Mitchell's guest choreographic, teaching, and guest panel engagements include the following institutions: Co-choreographed with late legendary choreographer and teacher Dr. Donald Mckayle on a creation for University of California, Ad Deum Dance Company, Irvine's Etude Dance Ensemble entitled Sanctuary (2009), METdance, Ballet 5:8, The Link School of the Arts, Vivid Ballet , Ballet Hartford, Ekklesia Contemporary Ballet, Cirque du Soliel: Elvis, Brigham Young Univeristy Department of Dance, Texas Ballet Theater Professional Division, University of California Irvine's Etude Ensemble (Dr. Donald McKayle–Artistic Director), Charlotte Ballet Summer Intensive, The Masterworks Festival, Belhaven University, University of Oklahoma Summer Dance Intensive, East Carolina University School of Theater and Dance, Santa Monica College, Houston Ballet 2, Southern Methodist University, and others.  




Laura Lee, Summer 2022 Cohort

Modern Languages and Linguistics/ Arts and Sciences

Laura Lee (PhD, University of Chicago) is an Associate Professor in FSU's Department of Modern Languages and Linguistics.  She specializes in Japanese cinema and visual culture, with emphasis on transnational and intermedial relations. Specific areas of research focus include the visual forms associated with Japanese modernity, avant-garde art practices in the 1960s, contemporary image culture, and popular art and media. Lee's book Japanese Cinema Between Frames traces how Japanese cinema has been continually reshaped through its dynamic engagement within a shifting media ecology: binding tightly with adjacent visual forms such as anime and manga to redefine itself across its history of interaction with new media, including television, video and digital formats. Her research interests also include film theory and aesthetics, issues in global cinema studies, and animation and new media history and theory.

 

Erika Loic, Summer 2022 Cohort

Art History/ Arts and Sciences

Dr. Erika Loic specializes in global medieval art history, manuscript illumination, and the Iberian Peninsula. She is especially interested in materiality and the effects of translating word and image across media, not only historically but also in Digital Humanities initiatives. Before joining the art history faculty at Florida State University in 2020, she held the Postdoctoral Fellowship in Medieval Art and Digital Humanities in the Department of Visual Studies at the University of Toronto Mississauga. In this role, she helped develop web-based teaching and research tools to support a new textbook (Jill Caskey, Adam S. Cohen, and Linda Safran, Art and Architecture of the Middle Ages: Exploring a Connected World, forthcoming from Cornell University Press). In addition to her training in art history, Dr. Loic's formal education has included film studies, communications, and cultural studies.




 

Sarah Eyerly, Summer 2022 Cohort

Musicology/ Music

Sarah Eyerly is Associate Professor and Coordinator of Musicology, Curtis Mayes Orpheus Professor of Musicology, and Director of the Early Music Program. Her research interests are broad, and include historical performance practices, eighteenth-century music, music and sound in early America, sound mapping and digital musicology, Native American and Indigenous Studies, archaeomusicology, global music history, and early modern studies. Dr. Eyerly holds the MA/PhD in musicology and criticism from the University of California, Davis, and the MM in historical performance practices from the Mannes College of Music. As a Fulbright Fellow to the Netherlands, she studied historical performance practices at the Royal Conservatory, The Hague. Prior to joining the faculty at FSU, she taught at UCLA, the University of Southern California, and Butler University, and was appointed as a visiting scholar with UCLA's Center for Seventeenth- and Eighteenth-Century Studies.

 

 

Ronisha Browdy, Fall 2022 Cohort

English / Arts and Sciences

Ronisha Browdy, Assistant Professor, holds a Ph.D. in Rhetoric and Writing from Michigan State University, a M.A. in English from the University of South Florida, and a B.A. in English from the University of Florida. Her primary research focuses on Black women's and Black feminist rhetorical practices, histories, and experiences. The Black feminist practice of "self-definition" (see Patricia Hill Collins) is a major point of inquiry within her scholarship. Specifically, Browdy interrogates how self-definition functions rhetorically as a means of asserting and affirming one's ethos within Black women and Black feminist stories, images, and representations of Black womanhood. Her scholarship on this subject matter ranges from the rhetorics of everyday Black women within private spaces to interpreting the rhetorical stories and naming practices of Black women public figures like Michelle Obama, Patrisse Cullors, and Issa Rae. Dr. Browdy's work has been published in Peitho Journal, Prose Studies: History, Theory, and Criticism, Reflections Journal, Women & Language, and Reflections: Public Rhetoric, Civic Writing, and Service Learning, and edited collections.

 

 

Bin Ouyang, Fall 2022 Cohort

Chemistry & Biochemistry / Arts and Sciences

Dr. Bin Ouyang is an Assistant Professor in the Department of Chemistry and Biochemistry. The Ouyang research group develops and applies data-driven approaches to design and understand materials for energy storage and conversion. We primarily focus on investigating the structure-property-synthesis relationships in material systems with compositional or structural disorder, multi-principal elements, and complex surfaces and interfaces. We implement computational chemistry tools including high-throughput molecular simulation, thermodynamics and kinetics theory, and material informatic tool to develop 1) Efficient design protocols for exploring new materials for sustainable energy and environment and 2) In-silico synthesis recipes for accelerating the preparation of new materials and the development of inorganic synthesis science. Students in our research group will be trained with theoretical and computational tools driven by the practical goal of the U.S. Materials Genome Initiative and the growing demands from energy storage and conversion industry.

 

Daniel Moraguez, Fall 2022 Cohort

Educational Leadership and Administration / Education

Dr. Daniel Moraguez is an Assistant Professor of Educational Leadership and Administration. His research interests include leadership for equity and social justice in K-12 schools, culturally sustaining education, principal preparation, and instructional technologies. He is currently designing a study on simulated learning for the enhancement of leadership preparedness, particularly around equity and social justice competences. The simulated learning program would be in addition to existing pedagogies and provide additional formative assessment opportunities of learning and development, immediate feedback to students, and include two types of simulations—choose-your-own-adventure style digital simulations and mixed reality simulations.

 

 

Zilong Xie, Fall 2022 Cohort

Communication Sciences and Disorders / Communication and Information

Zilong Xie is an Assistant Professor in the School of Communication Sciences and Disorders.

My research is centered around identifying the auditory, cognitive, and linguistic processes that support speech recognition, using an interdisciplinary and computational approach. My current work focuses on understanding how aging and hearing loss affects speech processing in acoustic and electric hearing (i.e., cochlear implant recipients), by examining age- and hearing loss-related changes in auditory function. In addition, I am interested in characterizing the auditory, cognitive, and linguistic processes that underlie (un)successful foreign-accented speech recognition among native and non-native listeners with normal and impaired hearing. The long-term goal is to translate knowledge from this basic research into clinical strategies to optimize speech understanding for older people, people with hearing loss, and second language learners.

 

Stephen Sansom, Fall 2022 Cohort

Classics / Arts and Sciences

Stephen Sansom is an Assistant Professor in the Department of Classis His research focuses on early Greek poetry, especially epic, aesthetics, and digital humanities. 

Irmak Olcaysoy Okten, Fall 2022 Cohort

Psychology / Arts and Sciences

Dr. Irmak Olcaysoy Okten is an Assistant Professor in the Department of Psychology.

My research examines the processes of social cognition with a specific focus on forming and updating impressions and beliefs implicitly (unintentionally) and explicitly (intentionally). I am particularly interested in the effects of motivational factors (e.g., the motive to reduce uncertainty, the motive to preserve ideological convictions) on these processes. For example, my recent work has documented the role of misplaced certainty (the sense of knowing the unknowable) in preserving false beliefs and conducting uninformed and antisocial behaviors. My current research focuses on understanding people's meta-perceptions of the obstacles that prevent them from recognizing and updating their biases. Among my future goals is to develop interventions targeting such meta-perceptions to reduce biases in interpersonal interactions.

Secil Caskurlu, 2022 Fall Cohort

Instructional Systems and Learning Technologies / Education

Dr. Secil Caskurlu is an Assistant Professor of Instructional Systems and Learning Technologies.

Her overall research focuses on the design, development, and evaluation of technology-rich learning experiences to enhance student outcomes including learning and engagement. Along this line of research, her current research focuses on three main strands: (a) social and cognitive factors that impact student outcomes in online education; (b) training instructional designers as it relates to meaningful (online) learning experiences; and (c) educating teachers to integrate computational thinking into their teaching to enhance disciplinary instruction.

 

 

Richard Waters, 2022 Fall Cohort

School of Communication

 

Annie Wofford, 2022 Fall Cohort

Department of Educational Leadership and Policy Studies / Education

Dr. Annie Wofford is an Assistant Professor in the Department of Educational Leadership and Policy Studies.

Dr. Wofford's current research projects focus on (in)equity within the pathways to and through graduate school in computing-related fields, using critical quantitative and qualitative methods to address related questions in this area. She has received funding from the Inclusive Graduate Education Network to engage in a research-practice partnership about graduate students' equity-minded mentoring practices and serves as a workshop facilitator for the Equity in Graduate Education consortium.

 

Shantong Sun, 2022 Fall Cohort

Department of Earth, Ocean & Atmospheric Science / Arts and Sciences

Dr. Shantong Sun is an Assistant Professor in the Department of Earth, Ocean & Atmospheric Science at Florida State University.

I am broadly interested in the dynamics of the climate system, with a focus on the physical processes by which the ocean interacts with the atmosphere, cryosphere, and marine ecosystems. Specific topics of interest include large-scale ocean circulation, high-latitude ocean dynamics, climate change on decadal to millennial timescales, sea ice changes, and global carbon cycle. My research mainly involves developing and using a variety of models, ranging from idealized conceptual models to fully coupled climate models.

 

Yang Hou, 2022 Fall Cohort

Department of Behavioral Sciences and Social Medicine / Medicine

Dr. Yang Hou, Principal Investigator, is an Assistant Professor in the Department of Behavioral Sciences and Social Medicine in the College of Medicine at the Florida State University. Her research seeks to comprehensively understand how environmental (i.e., sociocultural, family, school, and peer) factors and biological factors (e.g., genetic disease) influence child and adolescent development in socioemotional, behavioral, cognitive, academic, and health domains. She also aims to advance developmental and clinical science with advanced quantitative methods such as integrative data analysis. She has published over 30 peer-reviewed papers in top-tiered journals such as American Psychologist, Child Development, and Developmental Medicine & Child Neurology. Her research has been funded by the USA Department of Defense and garnered multiple international awards, for example, Rising Star from Association for Psychological Science and Early Career Outstanding Paper Award from American Psychological Association.

 

Casey D. Xavier Hall, 2022 Fall Cohort


Center of Population Sciences for Health Equity​ / Nursing

Dr. Xavier Hall (KAY-see shah-vee-AIR HALL) has expertise in mixed-methods community-based research addressing sexual, gender, and racial health disparities. Broadly speaking his work addresses multilevel influences on sexual health, violence, and mental health.

Dr. Xavier Hall's work strives to increase access to culturally appropriate care and interventions especially among sexual and gender minorities, survivors of violence, and people living with HIV. In addition to observational studies examining risk factors for sexual, violence, and mental health disparities, his previous work has included the development and cultural adaptation of measures for intimate partner violence, spousal homicide risk, and intersectional stigma for use in clinical settings. More recently, Dr. Xavier Hall has employed the use of implementation science frameworks to improve the roll-out of Pre-Exposure Prophylaxis for HIV prevention as well as behavioral e-interventions.

 

 

Walter G. Ecton, 2022 Fall Cohort

Educational Leadership and Policy Studies / Education

Walter G. Ecton is an Assistant Professor of Educational Leadership and Policy Studies at Florida State University. Dr. Ecton's research lies at the intersections between high school, higher education, and the workforce, and the pathways students take as they navigate those sectors. His work primarily focuses on students who take nontraditional pathways through education, with particular focuses on high school students in career and technical education, students who attend community college, and students who return to education later in life. He aims to produce work that can inform local, state, and federal policy decisions, and that shines light on the importance of equitable access to high quality educational opportunities for all students.

 

Joshua Loyal, 2022 Fall Cohort

Statistics / Arts and Sciences

Joshua Loyal is an Assistant Professor in the Department of Statistics. His research interests include Statistical Network Analysis, Multilayer and Dynamic Networks, Bayesian Inference and its application to scientific problems, Robust Statistics, Machine Learning, Computational Statistics, and Dimension Reduction.

​

Jeongbin Kim, 2022 Fall Cohort

Economics / Arts and Sciences

Jeongbin Kim is an Assistant Professor in the Department of Economics.  His research interests include Experimental economics, Behavioral economics, and Micro theory.

Indrabati Bhattacharya, 2022 Fall Cohort

Statistics / Arts and Sciences

Indrabati Bhattacharya is an Assistant Professor in the Department of Statistics.  Her research interests include Dynamic treatment regimes, Machine learning, Quantile regression, Shape-restricted inference,  and Bayesian asymptotics.

 

Guang Wang, 2022 Fall Cohort

Computer Science / Arts and Sciences

Guang is an assistant professor of the Department of Computer Science at Florida State University, where he is leading the Data, Computing, and Society (DCS) Lab. He was a Postdoctoral Associate at Massachusetts Institute of Technology and obtained his Ph.D. degree in Computer Science from Rutgers University. Guang is interested in finding meaningful patterns from large-scale data based on data-driven modeling and then designing socially informed decision making algorithms to address some real-world societal challenges. Currently, his research is mainly focusing on Big Data Analytics, Artificial Intelligence, Cyber-Physical Systems, and Human-Centered Computing, especially for applications on Human Mobility, Smart&Connected Community, and Economy.

Michael Elwardany, 2022 Fall Cohort

Civil & Environmental Engineering / Engineering

Michael Elwardany is an Assistant Professor in Civil & Environmental Engineering. His research interests include: Sustainable and Innovative Pavement Materials, Multiscale Modeling of Viscoelastic Materials, Asphalt Chemical and Rheological Characterization, Fracture and Continuum Damage Mechanics, Pavement Design, Preservation, Rehabilitation, and Management, Nondestructive Evaluation and Noninvasive Characterization, Machine Learning Applications in Pavement Engineering, and Infrastructure Resilience and Climate Change Considerations

Erica Harbatkin, 2022 Fall Cohort

Education Policy and Evaluation / Education

Dr. Erica Harbatkin is an Assistant Professor of Education Policy and Evaluation. Her research uses quantitative research methods to examine the implementation and impact of policies related to low-performing schools, school turnaround, and teachers. In particular, her work aims to unpack the mechanisms that exacerbate opportunity gaps and contribute to educational inequities. Her current research examines school and district turnaround in Michigan, with particular focus on the role of human capital in turnaround as well as the COVID-19 pandemic's outsized effects on the lowest performing schools and districts. She is a faculty affiliate at the Education Policy Innovation Collaborative (EPIC) at Michigan State University. Dr. Harbatkin earned her Ph.D. in educational policy with a graduate minor in quantitative methods from Vanderbilt University. She has a master's of public policy from George Washington University and a bachelor's degree in print and multimedia journalism from Emerson College. Prior to her work in education policy research, Erica was a reporter at daily newspapers throughout the country.

Yasmeen Hamza, 2022 Fall Cohort

School of Communication Sciences and Disorders / Communication and Information

I'm particularly interested in integrating my clinical experience with research. The research in my lab aims to assess and understand the impact/association of auditory disorders (hearing loss, tinnitus, auditory processing disorders) on speech perception, language development, and other cognitive capacities. The goal is to early identify problems in auditory processing and cognitive abilities that allows for better rehabilitation outcomes. I use behavioral, electrophysiological, and some modeling techniques to establish those goals.

 

Terence Crofts, Fall 2022 Cohort

Biomedical Sciences / Medicine

Terence Crofts is an Assistant Professor in the Department of Biomedical Sciences in the College of Medicine.

I focus on three lines of work that utilize parallel approaches to directly study novel interactions between small molecules and organisms in microbial communities: mechanism and evolution of antimicrobial modification and degradation; gut microbiota-mediated modification of pharmaceuticals and metabolites; and microbial community responses to emerging contaminants. I approach these lines of work from complementary angles and at multiple levels of scrutiny (i.e. spanning metagenomics to biochemistry). By studying these functions in isolation and in their native context it is possible to gain greater insight into their evolutionary origins and biochemical niche, as well as to access the great genetic diversity found in microbiomes.

Tristan Gagnon-Bartsch, Fall 2022 Cohort

Economics / Public Policy and Social Sciences

I am an Assistant Professor in the Economics Department at FSU. My primary fields are microeconomic theory, behavioral economics, and experimental economics. My research interests include: Microeconomic Theory, Behavioral Economics, and Experimental Economics.

 

Cyprian Lewandowski, Fall 2022 Cohort

Physics / Arts and Sciences

Dr. Lewandowski received his Ph.D. in Physics from the Massachusetts Institute of Technology in 2020. After spending two years as a post-doctoral fellow at the California Institute of Technology, he joined the faculty at FSU in 2022. What captivates Dr. Lewandowski's research interests is the ability of interactions in a condensed matter system to completely alter that system's behavior. More specifically, Dr. Lewandowski studies emergent electronic phenomena, which can be as fundamental as plasmons or as profound as superconductivity, to explore the underlying physics and to identify their potential technological applications. A common theme throughout his work is the close connection between theory and experiments, both in developing an understanding of interaction effects and shaping the questions Dr. Lewandowski asks as a theorist.

 

Peter Cheetham, Fall 2022 Cohort

Electrical and Computer Engineering / Engineering

Peter Cheetham is an Assistant Professor
in the Department of Electrical & Computer Engineering. Peter Cheetham was born in Auburn, New South Wales, Australia, in 1990. Peter received a Ph.D. in Electrical Engineering at Florida State University in 2017. During his graduate degree, he was also a Research Assistant at the Center for Advanced Power Systems where he assisted in the operation and maintenance of the High Voltage Laboratory. Upon graduation, he became a Postdoctoral Scholar at the Center for Advanced Power Systems and has become the lead researcher in the High Voltage Laboratory.

WeiweiLuo (W.Luo), 2022 Fall Cohort

History / Arts and Sciences

WeiweiLuo (W.Luo) is an Assistant Professor in the Department of History. 

I am a legal and economic historian with regional specialization in East Asia (especially China). My interest in legal history and comparative institutions emerged from my training at Washington University School of Law, where I was an Alex Handler Scholar and Law Awards Scholar. After completing the J.D. I pursued graduate study at Columbia University, where I received my Ph.D. My current book manuscript, which is based on my dissertation, focuses on the growth, governance, and transformation of common pool resources in late imperial China. This project brings empirical research of premodern Chinese legal institutions into theoretical dialogue with Western legal traditions. By so doing, it also reframes the narrative of Chinese early modernity. My research has been supported by the Andrew Mellon foundation and the American Council of Learned Societies.
---
Contact
Thank you for your interest in the Research Mentoring Academy.  If you have any questions, please contact Rachel Goff-Albritton, PhD, CCC-SLP, with any questions.