NATIONAL HIGH MAGNETIC FIELD LABORATORY DIRECTOR SEARCH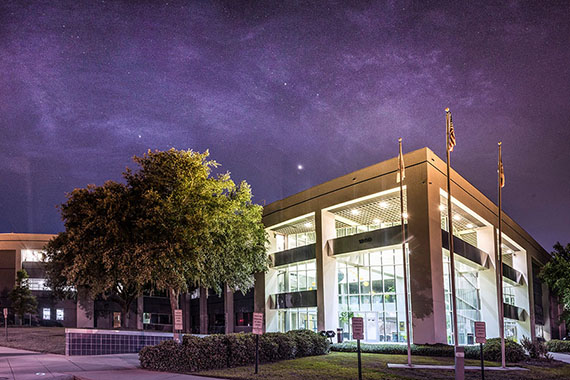 After nearly 20 years as the head of the Florida State University-headquartered National High Magnetic Field Laboratory, Greg Boebinger is stepping down from his post to return to the faculty.
Dr. Boebinger has had an extraordinary career with posts at Bell Laboratories, Los Alamos National Laboratory and ultimately FSU and the National MagLab. We are incredibly grateful for his leadership that has resulted in significant growth for the lab and positioned it as a global leader in magnet technology.
FSU is launching a national search to select his replacement.
The MagLab Director is a key leadership position at Florida State University and at the MagLab's partner sites at University of Florida and Los Alamos National Laboratory. The successful candidate will support our ambitious goals in education, research, innovation, outreach, and economic development.
The university has named a 14-person search committee and retained Park Square Executive Search to facilitate the search for Boebinger's replacement. Suvranu De, dean of the FAMU-FSU College of Engineering, will chair the search.
---
COMMITTEE MEMBERS
Suvranu De is the dean of the FAMU-FSU College of Engineering, which houses many MagLab researchers and technicians critical to magnet technology.
Sam Huckaba is the dean of the FSU College of Arts and Sciences, which is the academic home of many of the lab's physicists, chemists, biologists, and other scientists.
Ali Bangura is research faculty and the user technical support chief for the DC Field Facility which houses the lab's most powerful magnets used for condensed matter physics research.
Ernesto Bosque is research faculty working on magnet technology at the Applied Superconductivity Center.
Lance Cooley is a professor of mechanical engineering at the FAMU-FSU College of Engineering and director of the Applied Superconductivity Center.
Laura Greene is the chief scientist of the MagLab.
Neil Harrison is a staff member of the Pulsed Field Facility at the MagLab's site at Los Alamos National Laboratory.
Stephen Hill is director of the Electron Magnetic Resonance user facility at the MagLab and a professor of physics.
Yan-Yan Hu is a professor of chemistry and biochemistry at Florida State and a MagLab scientist who uses the lab's NMR magnets for her research.
Joanna Long is associate lab director of the University of Florida branch of the MagLab and director of the Advanced Magnetic Resonance Imaging and Spectroscopy Facility.
Amy McKenna is a research faculty member in the MagLab's Ion Cyclotron Resonance Facility which performs chemical analysis on complex mixtures like petroleum-based products, PFAS chemicals and dissolved organic matter. 
Eric Palm was one of the first scientists hired at the MagLab after the FSU headquarters opened and has served as deputy director since 2012.
Kristin Roberts is the MagLab's director of strategic communications and public affairs.
---
Florida State University seeks a widely recognized leader with demonstrated abilities to drive both scientific and management excellence, to serve as the director of the National High Magnetic Field Laboratory (NHMFL). The successful candidate must possess the skills necessary to manage a large and complex institution while also demonstrating a profound understanding of how to integrate fundamental and applied research.  This integration is crucial for delivering groundbreaking scientific discoveries and advancing technology development in the field of high magnetic field science.
As a world-class research institution, the NHMFL receives core funding from the National Science Foundation (NSF) and benefits from extensive collaborative initiatives supported by other agencies.   The Laboratory's staff members lead and support user facilities and diverse in-house research teams for the advancement of science in the areas of condensed matter physics and materials science; magnet engineering, testing, and instrumentation; chemistry, biochemistry, biology, biophysics, and geochemistry.  Much of this funding requires individual PI or small group leadership.  Integration and stimulation of such efforts are a vital part of the NHMFL portfolio, especially for technology development.
Major Duties/Responsibilities
The NHMFL operates seven user facilities across three campuses: Florida State University (headquarters), the University of Florida, and Los Alamos National Laboratory. This institutional diversity requires an approachable and empowering leader capable and conversant in multiple technical fields, with excellent strategic vision, insight, trust-building skills, and the ability to advocate. The complex nature of operations requires effective management across broad ranges of talent, experience, and capabilities in an environment with technical and commercial opportunities, political and infrastructure challenges, operational hazards, and unknowns. The director must be aware of and engaged with national priorities and national and international stakeholders to help ensure the continued preeminence of high-magnetic-field research in the US and globally, and to carry out the research, development, demonstration, and deployment of future magnet facilities to solve the next grand challenges as articulated by panels of the National Science Foundation and the National Academies, among other key advisory entities.
The NHMFL's continued impact on fundamental and applied science will be enhanced through important academic, institutional, and commercial partnerships. The director must be a collaborative problem solver, able to work with academic departments and administrative offices at the Florida State University, the University of Florida, Florida A&M University, Los Alamos National Laboratory and the Department of Energy; seek out and nurture relationships with partners from other laboratories, universities, and industry; and support the activities of the Office of Economic Vitality, the State of Florida, and the City of Tallahassee.
Qualifications
The next Director must possess an international reputation in high magnetic field science or technology, coupled with exceptional interpersonal and leadership skills suited for a complex, high-performance research institution. The qualifications sought in the next Director include:
Strong leadership presence, including exceptional communication skills, the ability to motivate and inspire others to action, and a desire to engage and connect with staff and teams at all levels within a large and complex organization.
Active listening skills with a genuine intention to understand and address the needs of both internal and external stakeholders, while balancing the priorities of a diverse workforce with deliverables of a complex scientific organization.
Outstanding record of scientific and technical accomplishments, including an earned Ph.D. in a relevant scientific or technical field.
Proven expertise in research and management development within relevant areas of science and technology, capable of scaling to meet the size, scope, and complexity of the NHMFL.
Demonstrated commitment to the development of staff and leadership.
Proven ability to create and implement a shared vision and strategy, align resources, empower staff to achieve goals through integration and teamwork, and to build and direct diverse, multidisciplinary organizations.
Significant working knowledge of federal agency missions with a particular emphasis on the NSF, as well as familiarity with key organizations, structures, and programs worldwide that are relevant to high magnetic-field science and technology. A demonstrated record of obtaining and sustaining funding from a variety of federal, and state agencies is essential. Playing a key role in obtaining such funding in the context of a center or higher-level organization would be advantageous.
This position will be filled as a tenured professor or specialized research faculty at the respective rank based on the qualifications of the selected incumbent.
Proven ability to foster successful relationships with university administrations, key program sponsors, and other stakeholders. Effective communication skills to articulate the breadth and depth of the research and development portfolio with key constituents, including elected officials, political appointees, government and other funding sponsors, scientific peers, and organizational partners.
---
MagLab Director Search Previous Listening Sessions
| | | | |
| --- | --- | --- | --- |
| Group | Date | Time | Location |
| MagLab Faculty | Tuesday, May 2 | 9:00 a.m. to 9:45 a.m. | MagLab B101  |
| MagLab Staff | Tuesday, May 2 | 10:00 a.m. to 11:00 a.m. | MagLab B101  |
| External Advisory & User Committee | Friday, May 5 | 1:00 p.m. to 1:45 p.m. | MagLab B101 |
| UF & LANL | Friday, May 5 | 2:00 p.m. to 3:00 p.m. | MagLab B101 |
| Affiliated Faculty | Wednesday, May 10 | 10:00 a.m. to 10:45 a.m. | MagLab B101  |
Pursuant to the provisions of the Americans with Disabilities Act, any person requiring special accommodations to participate in this meeting is asked to advise the University at least five days before the meeting by contacting: Kelly Starke