About the Vice President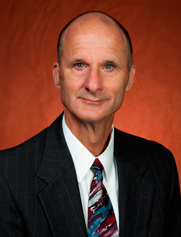 Gary K. Ostrander is the Vice President for Research for Florida State University. Ostrander directs the Office of Research and all aspects of Florida State University's $250 million research enterprise, including its research centers, programs and institutes. He oversees a staff of over 100 and a $30+ million operating budget.
As a faculty member he was active in teaching, research and service at Oklahoma State University, Johns Hopkins University, and the University of Hawaii. He also served as associate Dean of the Graduate School at OSU and Associate Provost for Research and Chair of the Graduate Board at Johns Hopkins University. Most recently he served as Vice Chancellor for Research and Graduate Education at the University of Hawaii's flagship campus in Honolulu. He is credited with enhancing that university's research programs and capabilities while leading the research enterprise through a significant period of growth. While in Hawaii he also served as Interim Dean of the Medical School from 2004-2006.
His own research has spanned from cancer biology to marine biology. Ostrander received a bachelor's degree in biology from Seattle University, a master's degree in biology from Illinois State University, and a doctorate from the University of Washington. Initially, his research focused on exploiting novel aspects of the biology of aquatic species to address fundamental questions of cancer biology. In recent years, his research program has expanded to include laboratory and field studies aimed at understanding the worldwide deterioration of coral reef ecosystems. He has authored/co-authored over 85 peer-reviewed publications, edited 4 books and co-authored a field guide.
The Office of Research at Florida State oversees the university's Council on Research and Creative Activity, several administrative and research units and the Office of Federal Relations and the Office of Intellectual Property Development and Commercialization. Ostrander also serves as President of the Research Foundation and is a Professor in the College of Medicine.
Dr. Gary K. Ostrander
Vice President for Research
3012 Westcott North
Tallahassee, FL 32306-1330
Phone: 850.644.9694
Fax: 850.645.0108
Email: gary@fsu.edu
Twitter: FSU_VP_Research
Florida State Names New Vice President for Research-5/23/12 article from Florida State 24/7