About the Vice President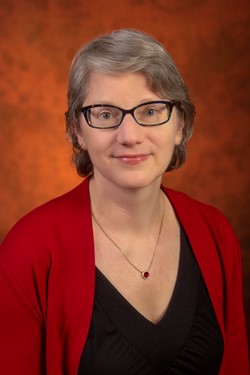 Laurel Fulkerson is the interim Vice President for Research at Florida State University. Fulkerson directs the Office of Research and all aspects of Florida State University's $250 million research enterprise, including its research centers, programs and institutes. She oversees a staff of more than 100 and a $30+ million operating budget.
Fulkerson received all her degrees from Columbia University and has been a faculty member in the Department of Classics at Florida State University in Tallahassee since 2000. Her scholarly work within Classics focuses on three basic areas: Latin poetry; ancient women's history and gender studies; and the emotions in antiquity. She edited The Classical Journal, a leading journal in her field, from 2010-2016, and she has won graduate and undergraduate teaching awards at national and university levels.
From 2015-2018, Fulkerson served as an Associate Dean of the College of Arts and Sciences at Florida State University. Among her duties were: running the college's teaching postdoctoral program, participating in faculty recruitment and annual evaluations, managing graduate and undergraduate enrollments and graduate recruiting, working with partners across campus to develop and improve diversity and bridge programs, facilitating curricular development and approving all new and continuing courses within the college, coordinating cost-sharing on faculty grant and fellowship applications, and managing the budgets for college distance learning courses. She also organized writing groups for women and faculty of color, worked with the college's donor board and department chairs to rethink alumni relations and development, and reorganized the college's communications and media division.
In 2019, Fulkerson became Associate Vice President for Research at Florida State University. Her portfolio includes private foundations, buildings, and renovations and space. She also is a team member of the university's Strategic Plan Implementation Committees for Diversity and for Career Success
Laurel Fulkerson
Interim Vice President for Research
3012 Westcott North
Tallahassee, FL 32306-1330
Phone: (850) 644-4940
Email: lfulkerson@fsu.edu
Twitter: FSU_VP_Research