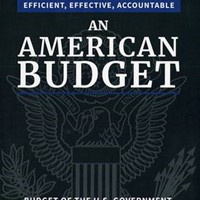 Last week, President Trump sent Congress his budget request for Fiscal Year 2019. The President's Budget Request (PBR) is only the first step in determining appropriations for the coming fiscal year. Over the next few months, Congress will also consider input from agency officials, constituents and other stakeholders as it assembles spending bills for FY 2019. However, Congress must first complete an FY 2018 spending package. Their work has been made easier by the recent passage of the Bipartisan Budget Act of 2018, which raises the overall spending caps for Fiscal Years 2018 and 2019, allowing appropriators room to finalize agency and program funding levels without deep cuts.  
Details on relevant items of the FY 2019 PBR are captured below and links to useful documents follow.
Agency/Office/Program,
$ in thousands
FY17 Final
FY18 President's Request
FY18 House  
FY18 Senate
FY18 Final
FY19 President's Budget Request
Department of Defense, 6.1 Basic Research
2,276,332
2,228,529
2,279,529
2,259,019
 
2,269,206
DOD, 6.2 Applied Research
5,296,175
4,973,465
5,242,866
5,336,221
 
5,100,359
DOD, 6.3 Advanced Technology Development
6,438,722
5,997,183
6,277,251
6,346,808
 
6,330,750
DOD, Total Science & Technology (6.1-6.3)
14,011,229
13,199,177
13,799,646
13,942,048
 
13,700,315
Department of Education, Pell Grant
22,475,352
22,432,600
22,475,352
22,475,352
 
22,475,352
DOEd., Pell Grant Maximum Award
5,920
5,920
5,920
6,020
 
5,920
DOEd., Work Study
989,728
500,000
989,728
989,728
 
500,000
DOEd., Supplemental Education Opportunity Grants
733,130
0
733,130
733,130
 
0*
Institute of Education Sciences
605,267
616,839
605,267
600,267
 
521,563
Department of Energy, Office of Science
5,392,000
4,472,516
5,392,000
5,550,000
 
5,391,000
DOE, Advanced Research Projects Agency Energy
306,000
20
0
330,000
 
0*
Environmental Protection Agency, Office of Science
706,473
450,812
602,238
634,029
 
449,000
National Aeronautics and Space Administration, Science
5,764,900
5,711,800
5,858,500
5,571,000
 
5,895,000
National Endowment for the Humanities
149,848
42,307
145,000
149,848
 
42,000*
National Endowment for the Arts
149,849
29,000
145,000
149,849
 
29,000*
National Institutes of Health, including funds to implement the 21st Century Cures Act
34,084,000
26,920,000
35,184,000
36,084,000
 
34,767
National Oceanic and Atmospheric Administration, Oceanic and Atmospheric Research
510,826
350,004
474,773
518,725
 
321,651
National Science Foundation
7,472,215
6,652,888
7,339,525
7,311,083
 
7,472,000
National Institute of Standards and Technology, Manufacturing Extension Program
130,000
6,000
100,000
130,000
 
5,000*
*Agency/Program Termination Proposed
Agency Items of Note:
National Oceanic and Atmospheric Administration: The President's Budget Request would cut NOAA Oceanic and Atmospheric Research by 37%. The PBR calls for a significant reduction to climate research. The NOAA Sea Grant program is proposed for elimination in the PBR.
Department of Defense: The PBR proposes a 19% increase to the Defense Advanced Research Projects Agency.
Department of Education: The PBR contains sufficient funds to maintain the current Pell Grant maximum award level of $5,920. Further, the document suggests expanding eligibility to "high-quality" short-term programs. The PBR suggests a nearly 50% reduction to the Federal Work Study program and would end graduate student eligibility. The document also proposes eliminating the Public Service Loan Forgiveness Program and subsidized Stafford Loans for undergraduate students.
The PBR proposes a reduction of 14% to the Institute of Education Sciences. Within IES, the PBR eliminates funding for the Regional Education Laboratories and the Statewide Longitudinal Data Systems programs.
Department of Energy: The PBR instructs the Office of Science to focus efforts on the early-stage research, operation of the national laboratories, and continuation of high-priority construction projects. The PBR calls for elimination of the Advanced Research Projects Agency Energy, as did the FY 2017 version.
Environmental Protection Agency: The PBR would cut the EPA Office of Science by 36.4%.
Health and Human Services: The PBR would reduce the HHS grantee salary cap from $187,000 to $152,000. Further, the proposal would cap the percentage of a scientist's salary that could be paid from grants.
APLU President's Budget Request Chart
President's Budget Request for Fiscal Year 2019
Addendum to the Budget Request, Reflecting Bipartisan Budget Act of 2018