From the towering pines in Tallahassee to the neon lights of South Beach — Florida is a truly special place.
As the third most populous and fastest growing state, we face a wide variety of challenges. How do we help coastal communities prepare for the inevitable social, cultural, and economic losses from rising sea levels? What are the most effective ways to improve health literacy? How do we recruit, retain, and empower students to enter the STEM workforce? What infrastructure do we need to develop to enable a transition to a clean energy economy powered by hydrogen? Does Tampa or Miami have a better Cuban sandwich?
Through Collaborative Collision, Florida State University is building the interdisciplinary teams needed to solve these complex challenges.
Each of our finalists has completed an intense, 10-week Incubator process to understand the complexity of their Challenge, what solutions are needed to make an Impact, the Strategy needed to develop those solutions, and how they will work together as a Team to implement their strategy over the next decade. Collaborative Collision: Florida is working to ensure that our friends, neighbors — and yes, even Florida Man— benefit from the discovery, creativity, and innovation taking place at Florida State University!
Congratulations to our Collaborative Collision: Florida finalists!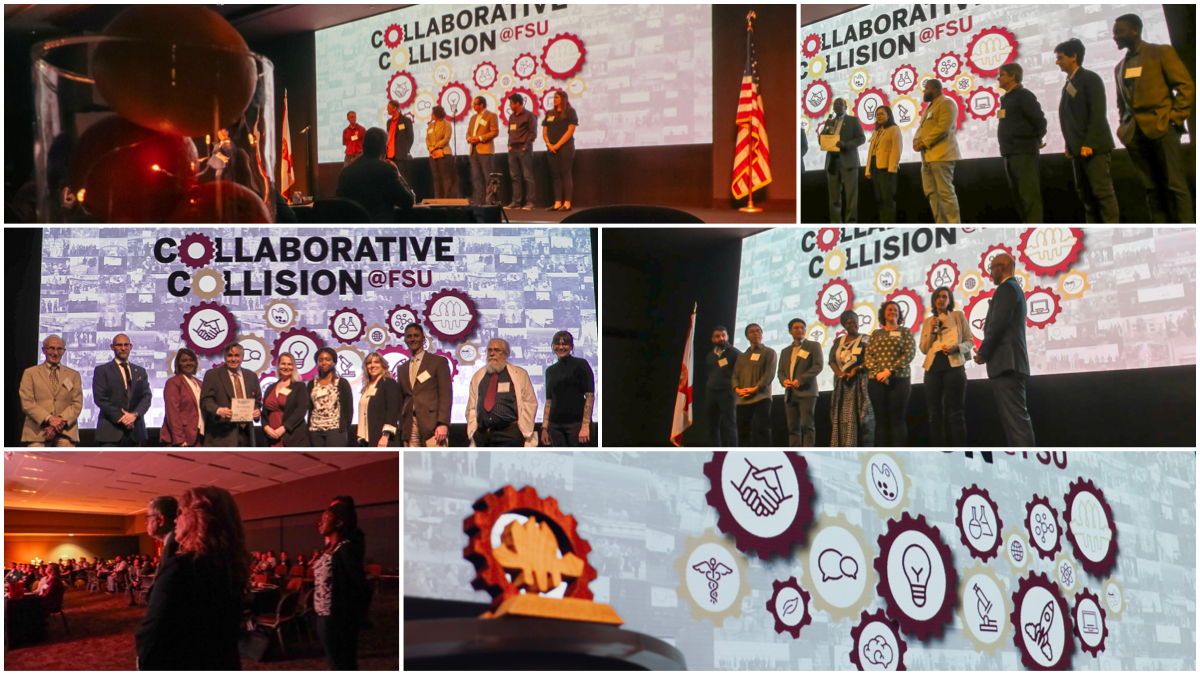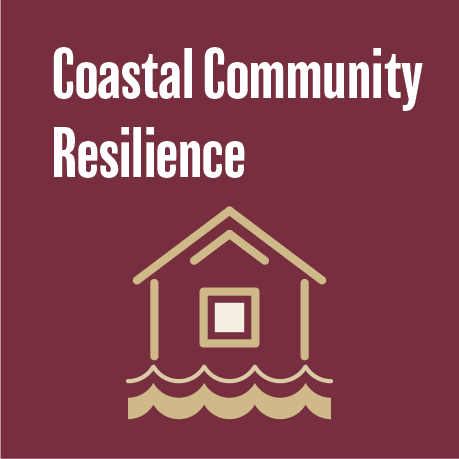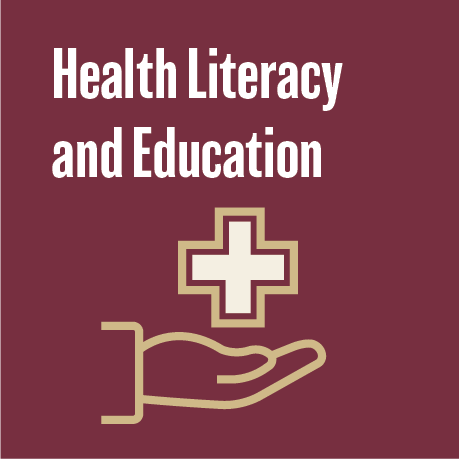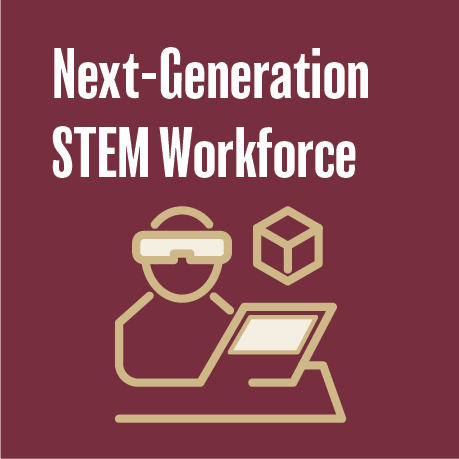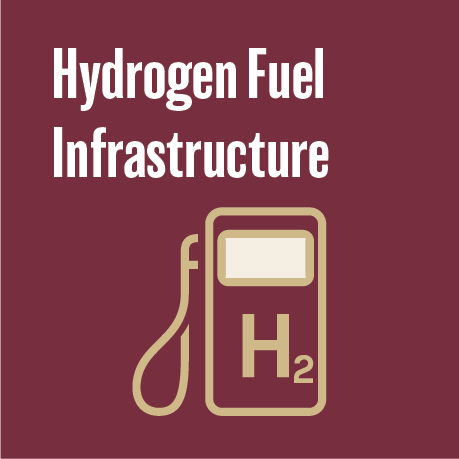 FSU CHOOSE: Collaborative Hub for Outreach and Opportunities in STEM Education
This collaboration focuses on expanding the number of people pursuing Science, Technology, Engineering and Mathematics (STEM) careers through outreach efforts addressing challenges in middle and high school STEM programs. By creating a "STEM outreach hub" to encourage coordination, collaboration, and partnerships within FSU and with North Florida community partners, we will launch a long-term effort to increase participation in STEM fields and establish Florida State University as a national leader in STEM outreach. The project will develop a strategic plan with the assistance of two key groups: FSU faculty and staff engaged in STEM outreach, and STEM educators from North Florida's K-12 schools and communities. We will develop two white papers describing the challenges and opportunities these groups face in collaborating, funding, and scaling STEM outreach. This effort between community organizations, K-12 educators, and FSU will generate at least two external proposals while building an innovative STEM workforce development network.
Accelerator Winner ($97,521)
---
Coastal Adaptation for Rural Environments
Remembering the Forgotten Coast: Building adaptive capacity for anticipatory retreat in times of sea level rise
Our team aims for FSU to become the hub for sea level rise (SLR) adaptation support for rural communities in Florida. One of the ignored aspects of SLR adaptation is that some environments, places, and resources will not be able to be saved from future SLR impacts. In the one-year project, our team will build and pilot test a process for analyzing, identifying and prioritizing areas and assets that might be lost to SLR, proposing strategies for saving assets that can be saved, and developing processes and projects for memorialization of areas that cannot be saved. After testing the process in Franklin County, we will extend the approach to other rural coastal communities in Florida. Ultimately, we propose to develop a Rural Coastal Community Adaptation Initiative to support adaptation and anticipatory retreat processes in the face of accelerating rates of SLR.
Accelerator Finalist ($25,000)
---
Health Literacy and Education
Playing for Better Health: Leveraging Entertainment and Education to Improve Health Literacy in the Digital Age
Health literacy, a social determinant of health, is highly associated with other determinants (e.g., socioeconomic status, education, community). Low Health Literacy (LHL) increases the risk for negative health outcomes. Research indicates that individuals with LHL are twice as likely to have preventable emergency department visits, while underutilizing outpatient services when medically necessary. This overburdens healthcare systems and may lead to delays in care. To address LHL, we will develop a game-based intervention that provides individuals with actionable instructions on when, where, and how to access credible health information. We will focus on disadvantaged Floridians in the Big Bend area because of the overwhelming evidence of higher risk for LHL and related health complications. Given Florida's significantly higher infant and maternal mortality rates, our pilot program will focus on the relationship between LHL and pregnancy in the Big Bend area to improve outcomes.
Accelerator Finalist ($25,000)
---
Clean Resilient Reliable Efficient Action for Transportation and Energy
Towards Clean Hydrogen for Infrastructure Decarbonization - Strategic Planning and Building Research Capacity at FSU
This proposal arises from an outstanding team at FSU that could collaboratively collide to decarbonize transportation and claim exclusive research and technology positions for FSU in billion-dollar hydrogen hubs and other large opportunities. Unfortunately, the path forward is clouded by the present scale and complexity of opportunities and the broad range of topics for research, development, demonstration, and deployment of hydrogen technologies. This landscape must be critically evaluated to identify the best targets for multi-investigator proposals and related commercial product development. The portfolio of activities must fit into a larger strategic plan to succeed in the long term. If awarded funds, the team will undertake activities to comprehensively assess the opportunity landscape, assess FSU's situation and preparedness, assess stakeholders and potential partnerships, identify potential test beds and adoption challenges, develop a roadmap for clean hydrogen research success and submit proposals for major external funding.
Accelerator Finalist ($25,000)