Becoming a Research Participant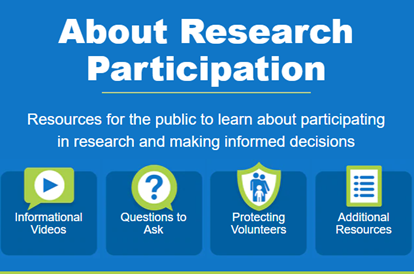 Click on one of the images above to get information that individuals should know before volunteering to take part in research 
(clicking on the image opens an external non-FSU web page)
Print or save this brochure (Learn About Research Participation) as a handy reference or to share with others! Click this link to learn more, including Spanish-language materials.
Additional FSU Information for Human Subjects Participants
Below is a list of questions that individuals should think about and ask FSU researchers before deciding to take part in research:
Is this study of interest to me?
When does this study take place?
Where does this study take place?
How long does this study last?
Does this study have FSU IRB approval?
Is this study safe?
Is this study confidential or totally anonymous?
How is my privacy being protected?
How will I be notified if risks or benefits to the study were to change?
Do I learn anything from participating?
Who gains from my participation in the study?
Do I feel pressured or obligated to participate in the study?
May I quit the study at any time?
Whom may I contact with questions or concerns about the study?
Whom may I contact with questions or concerns that is not involved in the study?
FSU Human Subjects Participant Rights
If you are asked to consent (that is, you asked to agree or to provide permission) to be a subject in a research study, you have the right to:
Learn about the nature and purpose of the study, experiment, or clinical trial
Receive an explanation of the procedures, and any drug or device that may be used
Learn about any benefits you might expect from the study
Receive a description of any discomforts and risks that you may experience from the study
Learn about the risks and benefits of any other available procedures, drug, or devices that may be helpful to you
Learn what medical treatment will be made available to you if you should be injured as a result of the study
Decide to consent or not to consent to a study without feeling force, obligation, pressure, or coercion
Receive a copy of the signed and dated consent form
Quit the study at any time, you decision may not be used as an excuse to hold back necessary medical treatment
Ask any questions about the study or the procedures involved
FSU Investigator Responsibilities
The Principal Investigator ("PI") is the individual who assumes full responsibility for a research study. The PI, together with other research study staff, are required to:
Conduct the FSU IRB approved research protocol
Obtain legally effective informed consent
Maintain subject confidentiality
Quickly respond to all participant concerns and questions
Inform participants of changes to risks or benefits in a study
Obtain approval from the FSU IRB for any proposed changes, additions, or deletions to the study
Promptly report all unanticipated problems or injury to the IRB
Retain research records for 3 years after the study completion date
Effectively train/mentor student researchers in ethical conduct of research
Comply with all FSU procedures for the ethical conduct of human subject research 
Research Participant Responsibilities
Completely read the consent form and ask the Principal Investigator ("PI") any questions that you may have. You should understand and comprehend what procedures will occur before you agree to participate.
Know the beginning and ending dates of your participation
Carefully weigh potential benefits of participation (if any) and risks of participation
Contact the Principal Investigator if you desire to terminate, end, or quit your involvement in any research study
Contact the PI and/or the FSU IRB with complaints or concerns about study participation
Report any and all unanticipated problems to the PI immediately
Comply with the responsibilities of participation as described on the consent forms unless you are discontinuing participation in the study
Confirm receipt of extra-credit points or monetary compensation
Request study results, if desired
Retain a copy of the consent form for your records
Contact information for the IRB and OHSP are in the panel above. The garnet ribbon below is information for the FSU Office of Research or FSU generally, and does not include any information for the IRB or OHSP.