Investigator Resources
The following materials provide researchers with important information, instructions, and guidance about OHSP and IRB human research review and submission requirements. These materials are provided here for quick access and reference. However, authoritative materials and approved templates reside in RAMP IRB, and should be accessed there in preparation for any research submission.
Was there an incident associated with your study? Many such incidents (e.g., adverse events, breach of confidentiality, awareness of abuse/neglect/misconduct, protocol deviations) may require reporting to the IRB within business 5 days from when researchers become aware of the incident. For further information and brief instructions check out our related FAQ #7 under Specific Questions. 
Do FSU human subjects policies apply to your research? Click here or on the image for a larger, pdf copy. ALL activities listed below are subject to FSU human subjects policies and require submission of your research for human research regulatory review; for further information and brief instructions check out our related FAQ under RAMP IRB-related Questions. Any activity in the light grey area are subject to the additional requirement for certification of IRB review and approval. More specific requirements apply.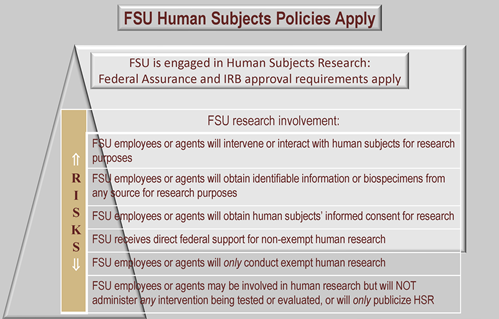 Training & Education. A protocol writing workshop and several RAMP IRB training videos are available here.
Templates & Required Forms. This page provides access to select and frequently used templates and forms, such as for protocols, consent forms and checklists/worksheets that researchers may reference to see what the OHSP and IRB look for when reviewing submitted studies.
CITI Training Requirements. Use this OHSP web page to find out what human subjects training requirements apply to FSU researchers, and how to enroll in training.
HRPP Toolkit. A description of collection of materials and documents that are available in RAMP IRB.
Revised Common Rule. An overview of the changes in federal regulations that apply to human subjects research. Most changes resulted in reducing the IRB review burden upon the research community. Each federal agency that is a signatory to the revised Common Rule has its own specific regulation. The Common Rule is also referred to as the Federal Policy for the Protection of Human Subjects.
Consent Process. A detailed explanation of the requirements for obtaining prospective subjects' voluntary agreement to take part in human research.
Research Data Security. An overview of some of the expectations for maintaining study subjects' privacy and the confidentiality of their data, including links to relevant policies and standards.

Contact Information
Office for Human Subjects Protection (OHSP)
2010 Levy Avenue
Bldg. B Suite 276
Tallahassee FL, 32306-2742
Ph: (850) 644-7900 (automated call answering with voice menu system allowing callers to be routed quickly and efficiently to needed points of contact)
Fax: (850) 644-4392
humansubjects@fsu.edu