Student-led Research: Introduction
Research conducted by FSU students ("student-led research") is held to the same standards that apply to other FSU research that may involve persons who serve as human research participants (or human subjects). Research that may involve human subjects may not begin until completion of review by the FSU Office for Human Subjects Protection (OHSP) and/or Institutional Review Board (IRB), followed by official approval or exemption.
Federal law and FSU policy does not permit retroactive (after research activities have started) approval. The guidance on this page is intended to clarify when student-led research that may involve human subjects must be reviewed by the OHSP or IRB. Use the guidance document, tips, student-led research FAQs and other links on the right to learn more about how to submit your studies for review.
Research Involving Human Subjects
Not all scholarly activities conducted by students may require OHSP and/or IRB review; what does require review is research that may involve human subjects as those terms are defined by federal law. Research that may involve human subjects is a subset of all scholarly and research activities that may be conducted at FSU (see chart below). The OHSP and IRB apply specific legal criteria to first determine what review if any will be required of a student's study or project.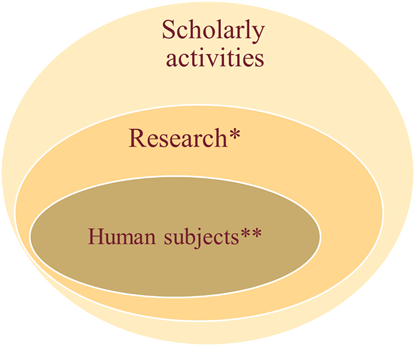 In the chart above, Research* means a systematic investigation that is undertaken to create generalizable knowledge, and generally refers to a planned study employing empirical principles and methodology to formulate, examine or test hypotheses, collect data or information, characterize phenomena, acquire knowledge and interpret results. Generalizable knowledge refers to results or findings that have relevance beyond the individuals, sample or program from which data or information are collected, including information that is added to the literature. Refer to our FAQs for examples of activities that may not require OHSP or IRB review.
Human Subject** means a living individual about whom a researcher (including students) obtains information or biospecimens through intervention or interaction with the individual OR obtains identifiable private information or identifiable biospecimens, for a research purpose.
Refer to the chart below to see whether OHSP or IRB review will be required of student-led research. Keep in mind that the chart provides only a high-level overview of some key decision points. Click on the chart to access a larger version with accompanying footnotes.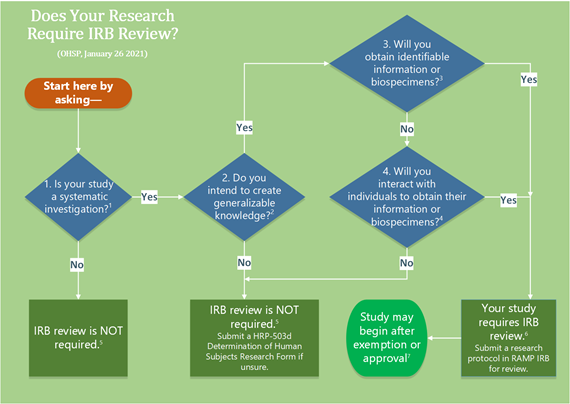 Contact Information
Office for Human Subjects Protection (OHSP)
2010 Levy Avenue
Bldg. B Suite 276
Tallahassee FL, 32306-2742
Ph: (850) 644-7900 (automated call answering with voice menu system allowing callers to be routed quickly and efficiently to needed points of contact)
Fax: (850) 644-4392
humansubjects@fsu.edu